Reviews
On the Beach at Night Alone | 2017 Berlin International Film Festival Review
Qualified for Love: Sangsoo Showcases Minhee in Latest Perambulation on Soju Soaked Saudade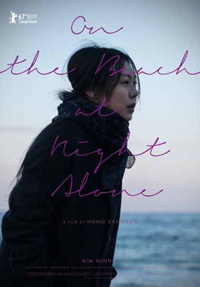 Prolific South Korean auteur Hong Sangsoo consistently unveils mannered films with marked sincerity and simplicity, like fragile strands of a spider's web in his naturalistic escapades sometimes so seemingly slight he's often accused of constant repetition. It doesn't help he uses the same cast members invariably involved in some type of similar formulation involving lovelorn characters sitting around in restaurants driven by the need to spout drunken confessionals or masking their doubts and anxieties known during various sojourns in attempts to escape themselves. His films often feel like concentric, overlapping circles all linked within the same web, and it is an observation which can also be laid upon his latest, On the Beach at Night Alone, which stars Sangsoo's new muse Kim Min-hee and potentially exorcises some autobiographical demons, at least judging from gossip fueled headlines involving director and star from last year. But even casting nagging reception theories aside, the heroine of his latest, an actress who has retreated within herself following a high-profile affair with a famous director, Sangsoo accomplishes something a bit more substantial with his latest, allowing for a strong central performance to rise out of a melancholic bit of observational comedy.
Recuperating from the fallout of a recent affair with a married director, noted actress Younghee (Kim Min-hee) takes an excursion to Hamburg, Germany as way to distract herself, accompanying an older divorced friend (Seo Younghwa). Grappling with her desires and goals as she decides how to move forward with her career and wonders if her ex-lover is experiencing the same struggles, she returns to Korea and reconnects with friends from her past in Gangneung. After her rendezvous becomes belabored, she retreats to a beach and is discovered by the colleagues of her old lover, learning he has commenced a new film project.
Since many of Sangsoo's films feel like echoes of one another, whenever he travels outside of South Korea or uses foreign elements, this tends to add a certain 'stranger in a strange land' element, which is enhanced thanks to the director's curious, pronounced approach. Like his love letter to Isabelle Huppert with 2012's In Another Country, or his focus on Japanese actor Ryo Kase in 2014's Hill of Freedom, the film's opening in Hamburg, Germany provides a gentle but unique prologue for Younghee's predicament, and Min-hee is paired delectably with regular Sangsoo cast mate Seo Younghwa as an older woman visiting friends in the country. Lilting conversations about speaking English and obtaining food are the superficial elements which eventually slide into notions of love and desire between the two women who speak of how similar they are despite somewhat opposing views. The segment also provides the first visit to a beach, a setting where Younghee will return to find solace.
In the film's second portion, Sangsoo reveals his typical iterations of commiserations in restaurants, leading Younghee to several interactions with old friends, both male cohorts now attached to women she's meeting for the first time. The odd man out, so to speak, it seems Younghee is looking for someplace to fit in, musing on the possibilities to settle down in Gangneung as she had also surmised about Hamburg. Anyplace but Seoul, it seems, a city, a climate, and an industry she wishes to escape.
During her first drunken interlude, Sangsoo allows for a cycle of comically primed dramatic heights as Min-hee rails against her friends and acquaintances as all people who aren't 'qualified to love,' a phrase then repeated delightfully as the conversation takes a revolution into more kinky territory when Min-hee suggests swearing off men and begins to kiss another woman at the table. Later, a more sobering altercation with her past (and Soju) brings her face to face with her ex-lover and his new film crew, as he embarks on a project about an adulterous love affair between a married director and his leading actress. The showdown is rather tense but quiet, and results in another retreat, this time to the same place she's been but perhaps leading her down another direction.
Reviewed on February 16 at the 2017 Berlin International Film Festival – Competition. 101 Mins.
★★★½/☆☆☆☆☆