Reviews
Return to Montauk | 2017 Berlin International Film Festival Review
The Past is Present: Schlondorff Explores Romantic Regrets in Mismated Adaptation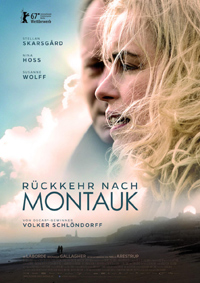 A key figure in the New German Wave from the mid-60s through the 1970's, Palme d'Or winner Volker Schlondorff (The Tin Drum, 1979) tackled a number of high profile English language adaptations in the second half of his career. From Arthur Miller, to Margaret Atwood, and Marcel Proust, Schlondorff has drawn inspiration from a myriad of renowned international authors. For his most prolific project in some time, Return to Montauk, the auteur tackles his second text from Max Frisch (the first being 1991's Voyager) as an exploration of regrets, remembrance, and the demonic hold of nostalgic tendencies as experienced by a once notable author hoping to resume a troubled romance which ended nearly two decades prior while on his latest book tour in New York. Interpretations of this past union are explored in a kind of clipped, refracted fashion, and Schlondorff's film is neither as slight as its premise promises nor as provocative as it might have been in a sometimes idiosyncratic version of a scenario we've seen before.
Max Zorn (Skarsgard), an author in his mid-sixties based in Berlin, returns to New York to promote his latest novel, a city he has particular interest in. His much younger wife Clara (Susanne Wolf) has been living on her own in the city to assist with the American publication, despite his latest novel examining a meaningful affair Zorn had experienced with Rebecca (Nina Hoss) the last time he was there. With the help of his publicist Lindsay (Isi Labord), he tracks his old flame down, though she is a bit reticent about him popping up unexpectedly.
Back when the project was first announced, Ralph Fiennes was the name being bandied about in the role of Max Zorn. Although Stellan Skarsgard is an equally notable talent, however, his presence as an ex-lothario of the literary circuit isn't a pill so easy to swallow, especially since Schlondorff's adaptation (co-written by Colm Toibin) insistently asserts the character's sex appeal by forcing a quartet of female characters to consciously and subconsciously moon over him in his current form. Perhaps this would be easier to believe if the object of his affection were not the incredibly gorgeous Nina Hoss, here playing a hyper-affluent lawyer whose clients are wealthy white collar criminals who have afforded her a swank New York City pad with a trio of cats to keep her company.
An additional part of the problem is how the film can't quite establish what either of them saw in the other in the first place. Sure, they mull over it themselves through various passages of dialogue, but nothing about their union seems quite genuine, particularly in the film's second half wherein they return to the titular area where once they shared an unforgettable weekend. And maybe this is exactly the point of the film, being we can't go home again, and we cannot recreate a moment once passed, no matter how desperately we try to conjure it into existence. However, their Montauk trip doesn't exactly make for a compelling crescendo of anything, at least not the offbeat weirdness promised in the somewhat unpredictable set-up collapsing Zorn's novel (or memoir, more like it, titled The Hunter and the Hunted) as merely a prologue to the new chapter he's about to live.
Skarsgard is enjoyably genial as the Berlin based Zorn, a man a bit too old for mid-life crisis mode but still stuck there anyhow. The arrival of Hoss in the film plays like a warm rush of air, the leggy blonde actor stalking down to meet Skarsgard and his plucky publicist (a warm and enjoyable Isi Laborde) with a sneer of disdain and unmistakable sadness in her eyes. And even though nearly all their shared sequences scream of mis-casting, they share an easy, sometimes bitchy rapport.
Initially, the film works best as an accidental comedy, particularly with the appearance of Rebecca's bestie, a flirty Bronagh Gallagher. But the screenplay has trouble getting over some of its loftier humps, such as when a teary Rebecca has to explain a nervous breakdown over another dead lover, and an episode of hypnosis which sounds way to insane for anyone to accept with a straight face. However, it would seem this is a belabored attempt for her character to prove how an absent chunk of her has left her emotionally, and romantically unavailable, at least to Max. In turn, he has his own secrets which kept them apart previously, creating an inverse scenario for why things didn't work out then and cannot now.
More interesting might be Zorn's marriage to Susanne Wolff's Clara, a younger woman who obviously knows she isn't the love of his life but has taken considerable pains to become detrimental to him, if only because the nature of their situation remains a bit undefined. An otherwise undeveloped subplot involving Niels Arestrup (who starred in Schlondorff's Diplomacy, 2014) and a painting involving of Paul Klee's seems only pertinent because it allows for the motif concerning how all things from the past, even priceless treasures, will fade, especially if you don't tend them properly. Still, it's a pleasure to see Hoss and Skarsgard face-off, even as they lapse into a distilled anguish over a romantic connection we aren't ever quite able to believe.
Exploring themes of the past as more an impetus for pain and psychic disruption should we choose to entertain our nostalgic fantasies, Schlondorff obviously still has something to say, even if we can't always believe the package as a whole. Technical credits are otherwise sounds with DP Jerome Almeras doing his best to serve NYC locations which are as important to the narrative as its two leads. A brisk opening credit sequences melds methods of transportation into a black and white montage over a cacophony of sounds, which is granted a fitting bookend in the final moments.
Reviewed on February 15 at the 2017 Berlin International Film Festival – Competition. 106 Mins.
★★½/☆☆☆☆☆