NY & Leather pants – Timoner Delivers by-the-numbers Biopic of Iconoclastic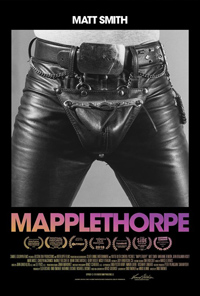 With her seventh feature film, Ondi Timoner offers an effervescent biopic of iconic queer photographer. From the bohemian emergent photographer who finds himself in a century that is too fast for painting, to his very last breath of the man, Matt Smith's take on the iconoclast covers two decades worth of Mapplethorpe's life.
Timoner's film recites tropes from the same well-known status of Robert Mapplethorpe, namely that of an enfant terrible of photography whose egomania hurts people around him as much as himself. Homoeroticism features prominently in Timoner's gaze, which is smartly intertwined with appearances from the famously provocative works by the photographer: nudes with African-American men, BDSM-inspired portraits and self-portraits, leather clothing as symbols of the queer club scene in New York, etc. To support such iconic material, the story only has to create a fictional (although well-documented) background.
Recently featured in works such as Patti Smith's Just Kids or the recent HBO production Mapplethorpe: Look at the Pictures (2016), this feels like an ABC summary of the NYC photography community, ending up in quirky territory. When the yet-unknown Robert meets the yet-unknown Patti Smith in a park, she asks him if he's gay, a completely corny way of paving that plot-line. While Robert Mapplethorpe is busy establishing his career in New York, there are always glimpses of the underground pop-culture – portraits of and by Andy Warhol, Bob Mizer's coffee-table books, a moment in which Patti and Robert read a review of Midnight Cowboy, etc.
The filmmaker's urge for authenticity becomes the elephant in the room, turning the film into an eye-candy compilation of artwork rather than a proper dramatic arc filling the gaps in a very public life. Found footage is also vividly used, from authentic shots of the Chelsea Hotel and Jonas Mekas-like excerpts of shaky material, nicely dovetailing with the reenacted footage in which Matt Smith and Marianne Rendón inhabit the times and places of Mapplethorpe and Smith.
Unfortunately, Timoner's biopic depicts does nothing but reaffirm the one-sided portrait of Robert Mapplethorpe that already emerged from previous works. Mapplethorpe is very promising in terms of directorial skills, but can't quite focus on a compelling approach, or even good intentions.
Reviewed on October 19th, 20th at the 2018 Warsaw International Film Festival – Special Screenings. 95 Mins.
★★½/☆☆☆☆☆