She Will Always Beat You: Huppert Get Homicidal in Jordan's B-Thriller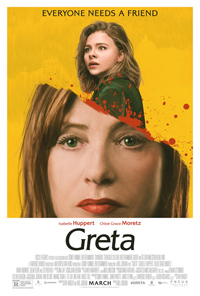 There's more than one way to depend on the kindness of strangers, including using them as a tactic to quell loneliness as evidenced in Irish director Neil Jordan's first film in six years, which arrives with the rather uninspired title Greta (previously, the project was known as The Widow, an equally vague but potentially foreboding descriptor). Of course, starring as that titular femme is none other than Isabelle Huppert, so one can understand allowing her to dominate the proceedings from beyond the frame (even if the eponym isn't entirely justified by the narrative, at least as compared to something like Eva, the Benoit Jacquot remake the actress starred in earlier this year). Jordan, whose filmography delights in characters who are never who they appear to be and are often actively seeking to transform, goes for an unexpected level of camp in his first resurgence since 2012's Byzantium, this time seemingly reveling in the parameters of B-movie tropes. Thankfully, by allowing Huppert to make mincemeat of this material, fans of the actress' particularly flagrant dark side should appreciate her ruefully perverse lunacy as a terrorizing grand dame who preys on the vulnerability of young women with penchants for hand bags and mommy issues.
Frances (Chloe Grace Moretz) has recently moved to New York from Boston, still grappling over the passing of her mother a year prior while her father (Colm Feore) has already found comfort in another relationship. While her only real confidante is roommate Erica (Maika Monroe), the naive young woman instantly finds herself gravitating towards Greta (Huppert), a widowed woman who left her handbag on the subway, which Frances takes it upon herself to personally return. Greta, a French immigrant whose daughter lives in Paris, is also lonely, and the women bond quickly. But over a friendly dinner at the older woman's apartment, Frances stumbles upon something sinister, causing her to quell the budding relationship. Greta, however, doesn't take kindly to being ghosted.
Less gothic romance than it is YA thriller (think early Willow Davis Roberts), Huppert gets to purr her way from something like Euro-style Mrs. Voorhees to full-fledged insane harridan, which has several notable peaks, including a Vivaldi scored public display of violence at Frances' waitressing job in a swank restaurant (where no one seems to particularly care if she's in danger or not). Her exchanges with roommate Maika Monroe play like similar sequences in the Fifty Shades films, and Jordan's rehashed screenplay from Ray Wright could have benefitted from mentioning how these two young women supplement their incomes to afford such a spacious apartment in Manhattan (which Dublin is standing in for). Moretz hits most of the right notes, wading through swaths of dialogue which are cornball initially but set-up Huppert for some of her most entertaining moments (such as a bit about chewing gum).
Huppert, who is still fresh off a career high thanks to the post-Elle Oscar nod, seems to relish the opportunity to become completely unhinged, and Jordan riffs off her The Piano Teacher (2001) role quite effectively. Audience members mildly guffawed upon learning a secret about her character's ethnic heritage, which isn't too far removed from something like the twist in 2009's Orphan (only more superficial and not as necessary). Huppert's brooding Greta comes across like the similarly unbalanced Tallulah Bankhead in the 1965 cult classic Die! Die! My Darling, in which the esteemed stage actress terrorizes Stefanie Powers in similar fashion.
What's perhaps most surprising is the level of empathy Huppert commands during her early abandonment phase—even though pursuing her prey like some crazed demon, Frances' lack of assertiveness in ending the relationship only compounds the increasingly hysterical situation. And while Greta has some fuzzy details according to its climax (such as how Greta wouldn't recognize a main character in a brunette wig, for instance), there's much fun to be had in a tradition of menacing thrillers which have long been out of style.
Reviewed on September 7th at the 2018 Toronto International Film Festival – Special Presentations Programme. 98 Mins.
★★★/☆☆☆☆☆