Begin Again: Edwards' Satisfying Sophomore Film Utilizes Walken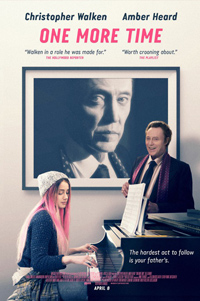 Thanks to the overwhelming trend of quirk, cliché, or contrivance evident in most American indie offerings (whether headlined by notable celebrities or not), one could easily assume the worst of Robert Edwards' sophomore effort, One More Time, a rather blandly titled father/daughter relationship drama starring Christopher Walken and Amber Heard. Which makes this title all the more pleasantly surprising considering the mileage these two performers squeeze from what could have been another trite and familiar scenario. Prickly, acerbic, and not without its rough edges, it's an enjoyably dark humored film wisely settling for small moments of emotional realism rather than exaggerated dramatic flair or tragicomic satire of its flawed characters.
About to be evicted from her Manhattan apartment, struggling singer Jude (Heard) heads to the family home in the Hamptons, where her father, once famous crooner Paul Lombard (Walken) lives with the latest in a succession of step-mothers, Lucille (Ann Magnusson). It seems Jude is something of a shy musical talent, suffering from a bit of stage fright and averse to being compared to her successful father (who had originally named her, tellingly, Starshadow). But coming home isn't quite an enjoyable event for Jude, who must contend with her younger, successful sister Corinne (Kelli Garner), who basically lives at Paul's while managing a fruitful restaurant. The siblings are polar opposites, and matters are further complicated by Corinne's husband Tim (Hamish Linklater), who first dated Jude and is now a stay-at-home dad. Jude's also just arrived as Paul is planning his big comeback, ready to present a brand new tune as an opening act for The Flaming Lips. As he nags Jude about her lack of ambition, Paul's agent (Oliver Platt) offers to get her in front of major producer. But Jude has a few items she needs to resolve.
The vague title (which was originally called When I Live My Life over Again) doesn't do Edwards any favors, but thankfully this is a far cry from his 2006 debut Land of the Blind, a poorly received political satire. We've seen plenty of emotionally volatile familial reunions, including those with Salingeresque talent clans competing and undermining one another for their artistic legacies, and Edwards isn't professing to cover any new ground here. But the film allows Amber Heard one of her finest roles to date, and for once, her beauty doesn't seem dulled to make room for wit and intelligence.
The shining star of One More Time is, without a doubt, Christopher Walken as a self-centered crooner who happens to be a much more aware of his muted iconicity than his inflated ego would seem to indicate, a man who describes his estate as belonging to "the slums of the Hamptons." Although Walken has come to be sort of a celebrated caricature of himself, and he's had his fair share of uninspired, gimmicky vehicles over the past decade (Stand Up Guys; The Power of Few), he's particularly imposing here as a womanizing crooner refusing to let age impede his eager comeback. The film's best moments, of which there are plenty, involve father and daughter's caustic sparring, while most of the subplots tend to pale in comparison.
Unfortunately, there isn't enough energy afforded to Jude nee Starshadow's characterization beyond her troubled relationships with men as father figures/romantic interests. Her long distance involvement with her married therapist and the strained chemistry between her ex-boyfriend cum brother-in-law Hamish Linklater are equally underwhelming distractions. But Kelli Garner as the stable younger sister and Ann Magnuson as Wilken's latest jilted wife are vibrant spots here, and Edwards excels at subtle moments of melancholy, apparent whenever these characters aren't talking over one another or attempting to secure something for themselves.
There's a brief exchange between Garner and Magnuson towards the finale which begins bitterly but veers into fiercely touching acknowledgment, and it's one of several quiet occasions marking One More Time as a familiar concoction a bit more vividly bittersweet than its brethren. A rarity in its ability to generate effortless charm, it's definitely worth more attention than it's bound to receive.
★★★/☆☆☆☆☆