One is the Loneliest Number: Palermo Exercises Tone Over Content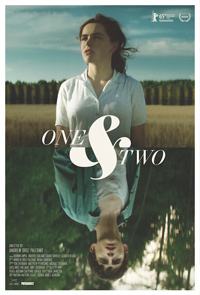 Playing like the tangential origin story you'd expect to see from some rurally grown mutant attending the famed school of Dr. Xavier, Andrew Droz Palermo's fiction debut One and Two is a surprisingly well composed low-fi genre piece. Establishing a compelling, mysterious tone, Palermo's treatment, co-written by Neima Shahadi, walks a fine line with a narrative steeped in vagaries. This saves it from treading predictable territory, and yet its lack of clarity in certain instances, cloaking itself in motifs concerning the toxicity of dogmas and forced isolation from the world, also lends the film a rather superficial sheen.
Eva (Kiernan Shipka) and Zac (Timothee Chalamet) are siblings living with their controlling father Daniel (Grant Bowler) and sickly mother Elizabeth (Elizabeth Reaser) somewhere in the countryside, cut off from the world by a large wall built around their property. Theirs is a self-sufficient homestead, with the family living off the land, cut-off from the world based on the very rigid religious ideologies prized by Daniel. But the children are nearing adulthood and they yearn to explore the world beyond their walls. Much to their father's dismay, they have certain supernatural abilities, including the gift of teleportation, leading the children to 'sneak' out of the house at night to run around in the woods. Daniel forbids this, leading to increasing tension between him and the kids. When tragedy strikes, Daniel finds himself unable to control Eva, forcing him to cast her out of the house. But it will take a force stronger than their father to keep the siblings apart.
Perhaps due to its title and the rather innocent desires of Eva and Zac, there's almost an echo of Dr. Seuss in here, as if the kids are those rascally creatures along the lines of Thing One and Thing Two. But One and Two more clearly resembles classic teen angst parables from Stephen King's heyday, like telekinetic tales of woe Carrie and Firestarter. Much like King's narratives, religious fanaticism plays a big role in how the children learn to perceive themselves and their powers as shameful things, brainwashing techniques used as a means of control. But what Palermo is able to accomplish on such a limited budget manages to be innovative and impressive, including the infrequent use of special effects.
Previously Palermo served as a cinematographer, most notably on Adam Wingard's 2011 film You're Next. and was one half of the directing team on Sundance winning Docu Rich Hill. Here he works with DoP Autumn Durald (Palo Alto) to create a rural landscape of foreboding and menace, the constant specter of encroaching forces that be always lurking.
As the gifted teens, Shipka and Chalamet are quite adequate, while more of an imperious impression from Grant Bowler as the zealot Daniel could have immensely helped the film's energy. Familiar character actress Elizabeth Reaser isn't given much to do beyond being a sympathetic yet helpless maternal figure.
Racing towards a blazing climax, we end with a burst of emotionally potent music playing over drastic measures. If only the dramatic heights of One and Two could have equaled the power of the music, this would have been more satisfying.
★★½/☆☆☆☆☆