Reviews
Ten Thousand Saints | Review II
New York I Love You: Berman & Pulcini's Schmaltz Soaked Latest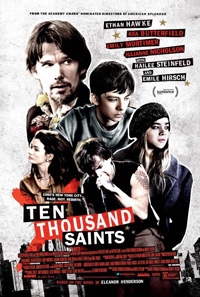 Nostalgia, especially in large doses, tends to hobble the authenticity of a text, whether in the literary or cinematic realm. On a superficial level, serving as a love letter to a bygone era of 1980s New York, Eleanor Hendricks' novel Ten Thousand Saints falls under the quirky spigot of directing duo Shari Springer Berman and Robert Pulcini, the team behind the Oscar nominated American Splendor from 2003. In the decade since that critically championed title, they've continued with a particular strain of fluffy cornball items. Following a brief assay into studio filmmaking with The Nanny Diaries (2007), they were responsible for a pair of sickly sweet titles headlined by prized performers like Kevin Kline in The Extra Man (2010) and Kristen Wiig in Girl Most Likely (2012). Though their latest venture is slightly more sobering, at least in a notable absence of nonsensical tangents included solely for comedic pandering, it will most likely appeal to less finicky audiences or those who prefer a spoonful of sugar to help the medicine go down.
On a chilly night in 1980 Vermont, the preadolescent Jude (Henry Keleman) watches in dismay as his irresponsible father Les (Ethan Hawke) is booted out of the house by his mother Harriet (Julianne Nicholson). She has good reason—Les got her friend pregnant, information revealed to us via a conversation between Les and his son. On his way out the door, Les also shares that Jude was adopted. Several years pass, and the aspiring punk Jude (now Asa Butterfield) is an angry teen who irritates his still single mother. On one particular New Year's Eve, Les sends Eliza (Hailee Stanfield), the daughter of his current girlfriend Diane (Emily Mortimer) from New York to Vermont to visit Jude.
The precocious Eliza hangs with the irritable Jude and his best friend Teddy (Alvan Jogia). While Eliza and Teddy have a brief fling in the bathroom at a party, the night ends in tragedy after Teddy and Jude pass out in the snow after huffing fumes and Teddy freezes to death. Unable to cope with Teddy's demise, Jude is eventually packed up to go live with Les and Diane in New York, where Jude and Eliza eventually interact with Teddy's older brother, Johnny (Emile Hirsch). When Eliza discovers she's carrying Teddy's child, Johnny decides to step in as a surrogate, attempting to convince Eliza to marry him. This causes significant discord in this disparate group of people.
With the exception of some winning moments from supporting characters played by Hawke and Hirsch, Ten Thousand Saints feels belabored from its opening moments of Jude's narration. "I've heard people say life is like a river…" he begins, and thus we join him on a journey of clichés mistaking idiosyncratic definitions of family for quirky banality. We've seen Hawke play the weathered, hippie father before, and a handful of amusing lines can't forgive how similarly this feels to that recent Oscar nominated turn in Boyhood. It doesn't help that his troubled relationships with women played by Mortimer and Nicholson are relayed without an ounce of chemistry. Likewise, shared sequences between the trio of female characters tend to ring incredibly false, especially pertaining to the fragile yuppie played by Mortimer.
Stanfield gives another similar performance to her growing filmography of offbeat teens, starting off with a bit of finesse before being lost in the ungainly love triangle that includes Jogie, Hirsch, and lastly the wholly unbelievable Butterfield (who co-starred with her in Ender's Game). Hirsch manages to feel a little less stilted, himself a graduate of these lead angst roles from a prior decade in vehicles that managed to be a little more rough around the edges (The Mudge Boy; Imaginary Heroes).
With a handful of timely tracks helping to coat Ten Thousand Saints in a shield of protective memory, even the sharp edges of the period are dulled down to be palatable. Guiding his son through less savory avenues in the East Village, Hawke's Les explains the concept of a bathhouse to his son, closed down by the city due to the rampage of the AIDS virus decimating the gay population. Hawke's nonchalance on the matter is perhaps meant as a nod to his character's progressive attitude, but Berman and Pulcini's rosy-tinted rendering has no aspirations of depicting anything messy or too uncomfortable to mar the all's well that end's well vibe of 'alternative' familial options amongst a group of desperately uninteresting pretty young things.
★★/☆☆☆☆☆