A Matter of Method: Jacquot Surveys the Techniques of Two French Titans in Conversational Doc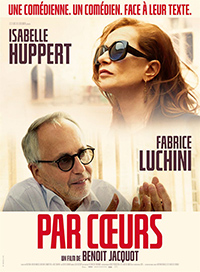 "I'm all at sea," moans Isabelle Huppert at the onset of Benoît Jacquot's Par Coeurs, a documentary showcasing both her and Fabrice Luchini as they prepare for productions at the Festival D'Avignon in 2021. One might initially mistake her introductory gesticulations as anxiety until we realize she's preparing to cram the dialogue of Lubov for a staging of Chekov's The Cherry Orchard. Such is the coercive blurring of actor and character for both esteemed performers, their own agitations of preparation blurring with materials Jacquot isn't at all interested in introducing. Instead, it's a treatise on how every performer brings a sense of themselves into any role, something Huppert has often commented on as pertains to her preparation.
Although one might need to be a fan of either the stars or the director to feel immersed in this pseudo fly-on-the-wall treatment, it's an overall interesting snapshot of two highly lauded professionals experiencing the Sisyphean mix of apprehension and craftsmanship attributed to any creative process.
Interviewed with a handheld camera, much of which takes place in a moving vehicle, Huppert learns her lines and offers an oblique peek at her thoughts and feelings while preparing for an upcoming stage production. At the same event, Luchini prepares a much more esoteric rendering of Nietzsche's prose. In their own way, they respond to director Benoit Jacquot's gentle observations and slight prodding about the nature of performance and preparation.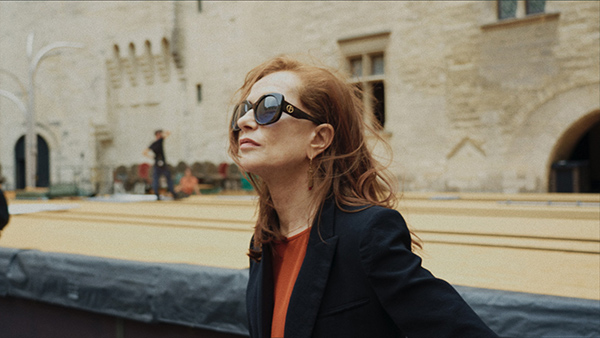 What's paramount to the intimacy of something like Par Coeurs is the established relationship Jacquot has with both his subjects. The three of them worked together on Jacquot's 1999′ title Keep It Quiet, while Huppert is one of the director's most frequent collaborators (having worked with the director in six narrative features, the last being 2018's Eva). While Luchini and Huppert never share screen time in this exercise, they're both aware of each other's presence (together they've additionally worked on Chabrol's Violette and Francois Ozon's upcoming The Crime is Mine).
Jacquot grills Luchini regarding thoughts on stage fright, claiming no accomplished actor actually suffers from the condition, at least no one who can rightly call themselves an actor. Luchini tries to circumvent this notion, pondering, "Does Isabelle have it?" Huppert, as would be expected, is nonplussed by Jacquot's theory on the subject. "I guess I'm not an actress then," she offers. Yawning, she immediately changes the subject by remarking on a barge she sees out of the car window.
Of the two, Huppert is less fussy. As would be expected, she's immersing herself in learning the dialogue right in conjunction with when she needs to perform, hardly a surprise considering she famously told a journalist who asked how she prepared for Serge Bozon's Madame Hyde (2017) by saying, "I learned my lines." Luchini, on the other hand, exhibits the expected behavior of the noted thespian, pondering loudly about his own approach and theories, extolling the virtues of actor Claude Jouvet in relation to his preparation in reciting the wisdom of Friedrich Nietzsche on stage. One has to "remove yourself to advance yourself," is a sort of mantra Luchini aspires to, noting "there's nothing worse than a good actor," suggesting mediocrity is inherent with comfort in the craft.
From highlighting his 'god' Jouvet, to Sacha Guitry and Moliere, Luchini is clearly invested in the essential history of his cultural predecessors, while Huppert is more ravenously invested in the nature of the work itself, perhaps existing in a realm where her favorite role might always be the next one. A rare treat for fans of Huppert and Luchini, Par Coeurs might not be anything more than a minor tribute to their talents, both of them inadvertently performing a version of themselves as actors.
★★★/☆☆☆☆☆