Pledge Allegiance: Kleiman's Intriguing Debut a Fascist Allegory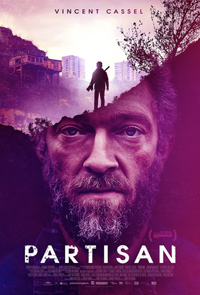 Sure to draw superficial comparisons to other famed pre-teen assassin films like The Professional (1994) or Hanna (2011), Australian helmer Ariel Kleiman's directorial debut Partisan instead feels like what you'd imagine Yorgos Lanthimos' version of The Village (2004) would feel like. Headlined by none other than Vincent Cassel and a cast of Euro accents speaking English, Kleiman and screenwriter Sarah Cyngler concoct a film that's oddly obscure and perfectly menacing, with an unwillingness to explain itself, recalling titles by Lucile Hadzihalilovic, wherein groups of children are possibly being utilized for insidious means by the adult community. An allegory concerning the oppressiveness of Fascism, Kleiman's film is also a coming-of-age-tale, spiked heavily with cold-blooded murder.
Opening with an ambient score that recalls Vangelis (utilized once more as a book end to the film), we observe Gregori (Vincent Cassel) in the midst of various assemblies before visiting a hospital, attending the bedside of a woman, Susanna (Florence Mezzara), who has just given birth. She's on her own, it seems, and we skip ahead to the eleventh birthday of her son, Alexander (Jeremy Chabriel). They're in the midst of a thriving, homey community, a place, we quickly learn that has strange customs. Soon, another woman with a small autistic boy and newborn infant arrives. The other women gripe about lack of space, but Gregori convinces the other women there's plenty of room. And then we realize, there are no other men—only single women and their young children whom Gregori has led to an isolated place through what appears to be a rudimentary cave that funnels up into a field outside of a dilapidated, rotting city. These women have taken refuge with Gregori, and are actively involved in a training regimen that sees the kids train to kill. Thus far, Alexander is the eldest of the children, and is often sent to the outside alien world to shoot victims point blank. But the more he is exposed to the real world, the more he questions Gregori's authority.
Much like the families of Dogtooth (2009) and Miss Violence (2013), children are sheltered and warped according to the beliefs in this extended familial community, raised with the credo to hit a man before being hit. We never learn anything about the people Alexander kills, but they're individuals living within a ghettoized city, seemingly taking place in modern times. Much like the mentally handicapped character played by Adrien Brody in The Village sets off an irreparable chain of events that unravels the fabric of his secret community, so does the presence of an autistic boy here, challenging the commanding Gregori. Any opposition, even that of a child unawares, is promptly squashed, highlighting Kleiman and Cyngler's portrait of totalitarian rule. It's this incident which alerts the generally obedient Alexander that all is not well in the kingdom.
As Gregori, Cassel is a commanding presence, generally affable, yet with a dangerous temper that flares when challenged. Chabriel is less expressive as the young boy, yet there's a nonchalant horror about his ability to go for an assassination run and stop at store to get ground beef for ma and experience his first taste of chocolate. Florence Mezzara, making her film debut, is a graceful presence, sometimes reminiscent of Charlotte Rampling. Refreshingly unwilling to provide any clear cut explanations, Partisan is a pronounced film, all the more impressive considering this is a first feature.
Reviewed on January 27 at the 2015 Sundance Film Festival – World Cinema Dramatic Competition. 98 Mins
★★★½/☆☆☆☆☆