The Retreat [Video Review]
The Hateful Straights: Mills Finds Bigots in the Backwoods in Exploitation Effort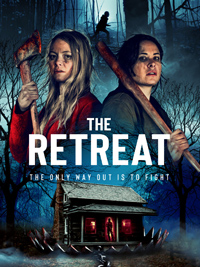 One of the many silver linings of genre filmmaking is the powerful ability of subtext. However, there's a formidable power in siphoning the subtext to the foreground in compelling ways, like The Stepford Wives (1975) or Get Out (2017), which formulate their own niche of persuasively terrifying social issue horror. However, there's also a fine line between eloquence and exploitation, and the latest film from Canadian filmmaker Pat Mills, The Retreat, gravitates towards the latter. It's a far cry from Mills' previous output, who heretofore reveled in showcasing teen pariahs embracing their freak flags in intriguing ways, such as his 2014 standalone debut Guidance (read review) and 2017's Don't Talk to Irene (2017).
Penned by his usual producer Alyson Richards, it's a welcome foray into infrequent depictions of LGBTQ+ characters as the focal point in genre but presents a scenario which begs for a tighter turn of the screw.
Valerie (Sarah Allen) and Renee (Tommie-Amber Pirie) are a couple about to attend a pre-wedding celebration of Connor and Scott (Chad Connell, Munro Chambers) at a quaint, isolated Airbnb. The event seems to generate an examination of their own relationship, as the commitment-shy Renee seems nonplussed about attending the celebration for Valerie's friends. Upon arriving at the rental property, which belongs to a gay couple as well, it seems Valerie's friends arrived, but they're nowhere to be seen. Deciding to relax and enjoy themselves while they wait for the men to show up, the women are suddenly alerted when they discover someone spying on them from the woods. Panicked, they are attacked, bound, and separated. As Renee awakens to find herself locked in a building owned by Layna and Gavin (Celina Sinden, Rossif Sutherland), she slowly pieces together the specific reason she and her girlfriend were targeted…

In essence, The Retreat plays like a cheapie queersploitation throwback, something which might have been powerful twenty-odd years ago, when the fumes of New Queer Cinema paved the way for an ever-widening array of possibility. Had this premiered around the time of Alexandre Aja's High Tension (2003), a sapphic, hyper stylized bit of gonzo torture porn, or Hellbent (2004), the aimless but noted 'first gay horror movie,' it might have felt like a trailblazer in the new millennium.
At a breakneck running time of eighty-some odd minutes, the script from Alyson Richards (who produced Mills' last two features) lacks requisite characterization for both the protagonists and antagonists. Sure, there are stereotypes being played with (look no further than the 'prudish' gay couple compared to the casually inclined Valerie and Renee), but the vaguely attenuated problems of this 'troubled couple' needs something more lukewarm than cold feet. As it stands, Renee's ambivalence for Valerie's safety, as clearly noted in an exchange of dialogue, reads as troubling, and perhaps unnecessary as far as how the audience should be interpreting her actions before and after this notation. If Renee and Valerie were having the sort of problems as say, the lead couple in another recent Canadian backwoods horror film, Violation (2020), this would have not only made more sense but allowed for the uncomfortable intrigue of identifying with someone who has moved beyond 'doing the right thing.'
Like Dave Franco's The Rental (2020), or even Nimrod Antal's surprisingly disturbing Violation (2007), couples preyed upon in rental properties strikes a common universal fear of unknown or unfamiliar spaces, our inherent vulnerability outside of our comfort zones. Tapping into the familiar fear of LGBTQ+ people anytime they step beyond the safety of anonymity in the urban metropolis should have a greater impact than what The Retreat offers, as certain revelations generate too many questions about the scope of operations as regards a complex predatorial network.
Notable faces amongst these characterless rubes, including Aaron Ashmore and Rossif Sutherland (Possessor, 2020), suggests a twist akin to 'the lady doth protest too much' level of self-loathing, but there's no such payoff. Daytime exterior sequences work well with the isolated locales, but DP David Schuurman has some nighttime scenes which feature lengthy bits of undistinguishable visuals. A finely selected soundtrack (including Allie X) and a score from Steph Copeland assist in establishing a through line vibe, while lead performances from Tommie-Amber Pirie and Sarah Allen are also a plus. However, if you're in the mood for some lesbians in the arthouse inclined Canadian hinterlands, Vic+Flo Saw a Bear (2013) from Denis Cote has the weirdo edge.
★★½/☆☆☆☆☆