Spring Blossom (Seize printemps) | Review
The Flower of Her Secret: Lindon Conquers a Crush in Directorial Debut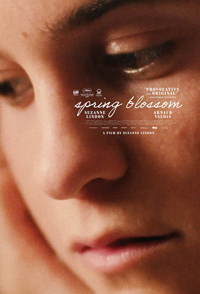 Exemplifying the sincere transitional period Britney Spears famously moaned about when she sang "I'm not a girl, not yet a woman," writer/director/star Suzanne Lindon proves she's a triple threat in her debut Spring Blossom (Seize printemps) in a narrative which echoes the same sentiments. The daughter of noted French thespians Sandrine Kiberlain and Vincent Lindon, she scripted the film when she was only fifteen years old, and five years later impresses with an assured, autobiographically inclined slant on sentiments specific to a particular age.
Curiously, it's the sort of scenario we've seen through the sexualized lens of either an older male's perspective or even the liberating gaze of an experienced woman (think something like Catherine Breillat's filmography, such as 1999's Romance, 1988's 36 Fillette or 1976's A Real Young Girl but without the traumas of aggressive sexuality her young heroines often face), so there's a doubling refreshing quality with the title, suggesting the sweet naivete of desire's first bloom but with the petals left alone to wither on their own.
Suzanne (Lindon) is a 16-year-old Parisian schoolgirl who has grown bored with the offerings of her peers. She spies an escape from a rote rhythm when she catches the eye of 35-year-old Raphael (Arnaud Valois), an actor who wallows in his own stagnation, recently cast as Erastes in a theater production in which his role seems impossible to perform based on the direction he receives. Slowly, Suzanne places herself in his orbit, sauntering past his theater in the 18th arrondissement, which she passes on her way to class. Raphael notices her gazes, and soon they're conversing platonically. Eventually, their interactions generate a desire in both, for him she represents a reclamation of youthful sentiment and for her he's a chance to be perceived in a way she's begun to desire but can't quite vocalize. Drawn into the adult world of the theater, Suzanne becomes inveigled with a situation which becomes increasingly risqué.

It would seem Arnaud Valois is drawn to playing the part of the doomed lover, at least recently in items such as Robin Campillo's BPM (2017) or Nicolas Maury's directorial debut My Best Part (2020). Lindon makes fine use of his presence with this casting, here playing an actor spinning his wheels, about to embark on another sexually ambiguous characterization by playing Erastes, the Greek signifier for an older man falling in love with a young boy.
Starring as a composite of herself, Lindon conveys a young woman of a certain age growing out of her gangly stature, suddenly made visible underneath the gaze of a man she's been admiring from afar. His intellectual influence also makes a mark, and Lindon formats such visualizations with finesse rather than directly stating them (such as her sudden interest in exploring Boris Vian, whose incendiary 1946 crime novel J'irai cracher sur vos tombes she has on hand throughout, which seems to indicate her awareness of the manipulations of men in her eventual deciding factor concerning Raphael).
Impressively clear-eyed in this insular examination of a first love, Spring Blossom also has its fair share of clichés often seen in French cinema, like sexual gratification with furniture or a musical aside meant to visually showcase the protagonist's delights. Lindon sidesteps the potential discomfort of a romance between a 35-year-old man and a 16-year-old girl with a tentativeness meant to highlight how a consummation of their mutual desire would only ruin the memory of it (not to mention forcing contention with the unethical pallor it would cast). As such, it's surprisingly an odyssey of invigoration between two people who unexpectedly stumbled into a meaningful connection.
Reviewed virtually on September 17th at the 2020 Toronto International Film Festival. Discovery Program – 73 Mins
★★★/☆☆☆☆☆