The Beast in the Jungle | 2023 Berlin Film Festival Review
Waiting for the Stars to Align: Chiha Finds Fruit Rotting on the Vine
"Good things come to those who wait" might be a commonly bastardized idiom we're accustomed to hearing, but the wisdom from any random fortune cookie will tell you waiting for a perfect moment means all moments are destined to pass you by. Patric Chiha examines a hyperbolic instance of such a predicament with his latest film La Bête dans la jungle (The Beast in the Jungle), freely adapted from the 1903 novella by Henry James. Reuniting with Beatrice Dalle, who headlined his 2009 debut Domain, Chiha transposes the verbosity of James into a metaphorical Parisian club scene spanning twenty-five years. It's a novel and effectively Bunuelian approach to fixate the essence of James' frustrating wannabe lovers to the ultimate contemporary purgatory of the dance floor, a repetitive hedonism where arguably objects at rest and motion are tethered to a sense of imaginary, doomed escapism.
Chiha retains James' basic details, wherein a young man named John Marcher (Tom Mercier) has a surprising reunion with May Bartram (Anais Demoustier), a pair who had met ten years prior. May was instantly infatuated with John, who seems somewhat haunted and oblivious, but she asks for an update on a secret he'd purportedly told her and no one else. John instantly latches onto May, the only witness to a self-imposed misery wherein he's convinced he's destined for something vaguely life-changing, potentially even catastrophic, to happen to him. Whatever this happening might be, he's sure it will alter and influence the lives of others. However, this belief has led him to a state of perpetual arrested development, and as more time has passed, he's refused to divulge this secret to anyone else. May's infatuation lulls her into an immediate rhythm whereby time passes them both by as they become bystanders to their own lives.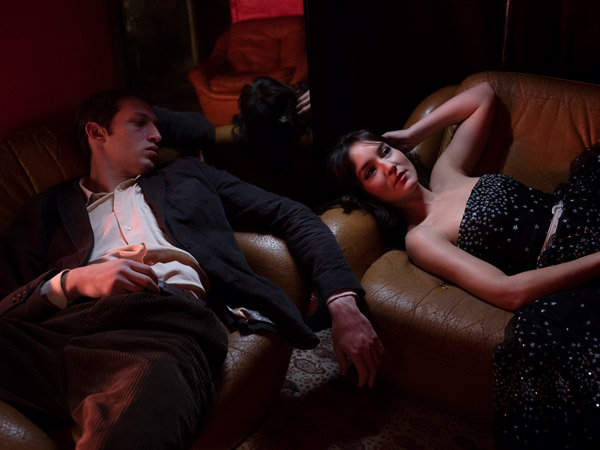 In this version, their coincidental reunion takes place at a Parisian club run by a woman who eventually refers to herself as a physiognomist (Dalle), who assists in their fate through her recognition of their needs, like a devilish matchmaker, sharing information about the troubled lovers through her narration. The existing possibilities of this nameless club in 1979 indeed conjures an intoxicating sense of the infinite, and May's small knit group of friends can't quite understand her interest in the somewhat inert John. Another suitor is eventually driven away over the years, while the club scene changes drastically at the onset of the AIDS crisis.
Still, John and May become fixtures in the club, witnessing the passage of time through major events happening in the outside world, such as the election of Mitterand, the fall of the Berlin Wall, and the 9/11 terrorist attacks. Yet none of these events affect their tried and true course of waiting for John to experience his supposed fate. By the 2000s, the club is officially named 'The Beast in the Jungle,' referencing the primal destiny supposedly lurking in his periphery. Eventually, May becomes ill, and it is only through her absence where he discovers his folly of letting the life he had before him crumble into nothingness, his only witness victimized by his negligence of her affections.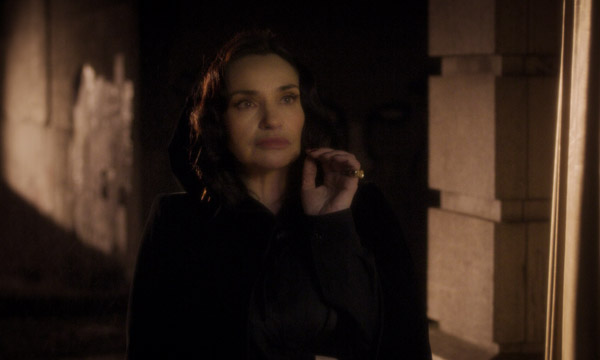 Dalle is sumptuously sinister as an immortal, vampiric gatekeeper to this addicting demimonde, channeling the energies Eva Ionesco was trying to capture in her 2019 title Golden Youth. Mercier, in his first major role since leading Nadal Lapid's exceptional Synonyms (read review), is boyishly frustrating, while the effervescent Anais Demoustier is a martyr of her own making.
Chiha's script, co-written by Jihane Chouaib and Axelle Ropert, retains the same sense of reticent ennui from the James' text, but updates it with subversive fervor. Celine Bozon's cinematography captures a hypnotic mood, also in keeping with Chiha's overtly queer oeuvre built in titles like Brothers of the Night (2016) and the 2020 documentary If It Were Love, where intersecting interests in queer communal spaces create spasms celebrating life while also hurling its participants towards death.
Reviewed on February 17th at the 2023 Berlin International Film Festival – Panorama section. 103 mins.
★★★½/☆☆☆☆☆