Parallel Mothers (Madres paralelas) | Review
The Lives of Mothers: Almodovar's Melodrama Mines the Personal and Political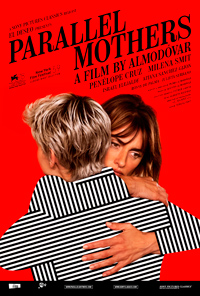 Coincidences abound in Parallel Mothers, the latest soap dish from Spain's perennial auteur, Pedro Almodóvar. As the title indicates, favored motifs celebrating women and motherhood abound in a narrative which eventually has more bite than bark for the filmmaker's boldest and most vibrant offering since 2011's The Skin I Live In. While recent titles like Julieta (2015) and Pain & Glory (2019) concern protagonists forced to contend with painful memories from their past, Almodóvar widens the scope considerably in a sometimes tenuous deliberation on Spain's wounds from the 1930s civil war. How this is effectively married to the Sirkian melodrama unfolding through the narrative is debatable, but it's also a film which lives beyond the rigid confines of its well-heeled worldview.
In 2016 Madrid, photographer Janis (Penelope Cruz) meets forensic anthropologist Arturo (Israel Elejalde). She approaches him for assistance in digging up a mass grave site in her hometown where her great-grandfather, among with many others, was buried after being murdered by the Falangists in the 1930s. Arturo suggests applying to a committee who would assist in funding this kind of expenditure, though a decision to do so could take years. They begin a passionate love affair, but Arturo's current wife has cancer and he won't leave her. Falling pregnant, Janis decides she will raise the child on her own, and they separate. While in the hospital giving birth, Janis befriends her roommate, the teenage Ana (Milena Smit), who isn't as plucky as Janis. Assisted by her disinterested mother Theresa (Aitana Sanchez-Gijon), Ana is also destined to be a single mother. As months pass, Janis becomes suspicious her child, Cecilia, doesn't look like either of her parents. A DNA test confirms her suspicions, and she is not the biological mother. Eventually, Janis must deal with the reality of the scenario she finds herself in.

Hot off his English language debut, the Tilda Swinton led short "The Human Voice," Almodóvar returns to the backbones of his filmography, the complex relationships and realities of women. Several newcomers join his long-running muses, like Penelope Cruz and Rossy de Palma, but they are all nearly upstaged by the sterling production design. Interiors awash in yellows and greens (including the hospital rooms) are a presence of their own, speckled with the vibrant reds often worn by the women.
Courtesy of returning set decorator Vincent Diaz and DP Jose Luis Alcaine, it's an unmistakable cache of Almodovarian visual feasts (including a montage of shoes for a smack of object fetish). As Janis (named for Janis Joplin), Cruz navigates the script's most complex emotional terrain with a kind of unwavering saintliness. Sure, she makes some poor decisions, but even at her worst, she's between a rock-and-a-hard place guaranteeing martyrdom. "I'll tell you another time," she sighs to more than one character, harboring secrets she knows will turn her life upside down if revealed. Her fling with Israel Elejalde's Arturo is so short lived it feels as if he's merely the forensic anthropologist catalyst for the film's third act indictment of the Falangist Party's murdering and pillaging during the 1930s civil war (and the overall lack of resolution).
More curious is how Almodovar maintains an ambiguity as far as what Janis actually feels for Ana, or if their eventual intimacy is just a manipulation. Ana is so passive, it's never clear if she exists beyond being a neglected child who most yearned for her mother's love. Instead, she's most convenient as an unfortunate product of historical erasure. While it's one thing to not know who Janis Joplin is, Ana is of a generation too far removed from the intergenerational trauma inflicted by the war to consider its ramifications on the present. Ana's mother Theresa (a sumptuously dressed Aitana Sanchez-Gijon), is more interested in grasping the fame she desires as an actress, having scored the lead in a production of Lorca's Dona Rosita the Spinster. Almodovar utilizes her character to underline the differences between maternal instincts as well as how such selfishness also creates a bubble of convenience from the past. "I'm apolitical," she explains. "I have to please everybody." Ironically, Janis' actions are similar to Theresa's as a people pleaser. But sometimes telling the truth gets messy.
Milena Smit is an ingenue to Almodóvar's fold, curiously styled similarly to Adriana Ugarte in Julieta (2015). Since the audience is clued in early on to the possibility the babies were swapped at birth, we keep waiting for something like The Imprint of an Angel (2008)/Angel of Mine (2019) to happen, or any of the inevitable fixtures familiar to this scenario. Instead, it's a film which begins with an interest in the past, and doubles down by returning to it by vocalizing the lack of resolution for those whose missing relatives have never been recovered. At the same time, Parallel Mothers comes nowhere near the magnitude of something like Jasmila Zbanic's searing Quo Vadis, Aida? (2020), depicting the horrors of Srebrenica. A smaller gripe would also be Rossy de Palma's dialogue, saddled with several bits of dialogue which sound like hollow filler. Ultimately, as the finale spells out, it's a film about how the truth cannot be erased, the world at large tenuously juxtaposed with Janis being compelled to do the right thing (which includes some tense DNA test results set to a Hitchcockian score from Alberto Iglesias, and much more exciting than how this contemporary technology was used in something like Maiwenn's DNA, 2020).
★★★/☆☆☆☆☆