Reviews
Portrait of the Artist | 2015 Rendez-Vous with French Cinema Review
On My Skin: Barraud Explores the Essence of Monstrosity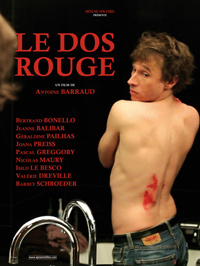 There are moments within Antoine Barraud's sophomore feature Portrait of the Artist that tend to feel enlivened with an arresting strangeness. There is the peripherally entertaining notion of provocative body horror shadowing us while we follow a filmmaker creating his latest project, simultaneously losing his grip on reality. But more often than not, the film feels like a thriller version of Frederick Wiseman's National Gallery. Barraud's French language title, Le Dos Rouge (basically The Red Back) was perhaps too literal of a title, and the allusion to Joyce's classic text (though this is really more 'as a middle aged man') gives it a certain extra textual density since Joyce's novel is an allusion to Daedalus, the man responsible for constructing the Labyrinth which entombed the deadly Minotaur in Greek Mythology.
Bertrand (Bertrand Bonello) is a filmmaker looking for a certain kind of artistic inspiration for his next project, which may or may not be a film. He wants it to be about a female monster, and so he scours museums with an art historian, Celia Bhy (Jeanne Balibar) looking for just that. Meanwhile, a strange red rash is forming on his back, which he keeps secret from his wife, an actress (Joanna Preiss). He sees a physician (Barbet Schroeder) who is retired and appears irritated to be bothered by Bertrand because he is not a dermatologist. But Bertrand's search continues as he navigates several encounters, including an actor attached to the project (Pascal Greggory), a needy journalist (Nicolas Maury), and a very strange museum patron (Marta Hoskins).
To see French auteur Bertrand Bonello in front of the camera in what stands as his most prolific acting role to date is certainly worth the price of admission. Exuding a kind of wearied intellect reminiscent of Stephen Rea, Bonello is playing a compromised version of himself in this exploration of obsessiveness that contends to portray a certain slippery slope into madness. A series of highly pretentious but usually amusing exchanges occur between Bertrand and his cadre of associates as they examine monstrousness through art throughout the bowels of museums, looking for ideas in hopes to define the vague parameters for his new project. Balibar is routinely entertaining as his museum buddy, often drifting off into hyperbolic examinations of art ("a virgin is a monster by definition," she claims in a discussion about the mother of Jesus Christ.) In a Bunuelian move, the actress is replaced at some point in the film by Geraldine Pailhas, playing the same character, meant to certify Bertrand's loosening grip on reality.
In many ways, Barraud's film recalls the cinema of Marina de Van, both her excellent 2002 film In My Skin, with Bertrand's nasty red rash slowly forming into the shape of a hand, and then her 2009 film Don't Look Back, a film dealing with issues of perception as it literally morphs its lead actresses into one. At a retrospective of Bertrand's work, a bossy moderator during the Q+A (including Isild Le Besco and Alex Descas as cast members of the faux film) cites Bertrand's obsession with the 'eroticism of transformation' in his films, but only via the pleasure of men and the punishment of women (it's worth noting that Portrait of the Artist becomes an interesting conversation piece with another filmmaker's exploration of erotic transformations in Christophe Honore's Metamorphoses from Ovid's famous text).
There are a multitude of ideas sounding off in these heady, talkative moments in Barraud's film, considering these really are themes touched on in Bonello's own work, such as the transgendered art horror of Tiresia (2003). "What is monstrous here?" asks the tireless art historian portrayed by Balibar of a certain piece. With Betrand's mother (the voice of Charlotte Rampling) narrating the beginning and end of his story, perhaps it appears that it's open to interpretation.
Reviewed on March 15 at the 2015 Rendezvous w/French Cinema at Film Society Lincoln Center – 127 Mins.
★★★/☆☆☆☆☆