The Kid Stays in the Picture: Ponciroli Goes Old Fashioned with Fan Fiction Western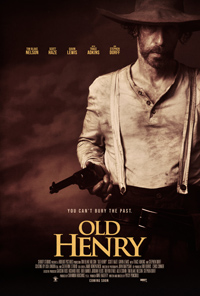 At a certain point, revisionism strays so far into its own horizon it ends up full circle in resembling the format it's progressing. Such is the case with Potsy Ponciroli's sophomore film Old Henry, a character driven oater which suggests elements of fan fiction mining the urban legend of Billy the Kid. A certain historical awareness of the outlaw gunfighter, (nee Henry McCarty alias William H. Bonney) might add to the weight of Ponciroli's conceit, which is otherwise as old fashioned a narrative as they come.
A handful of performances from esteemed and grizzled character actors elevate the proceedings immeasurably, particularly with a rare and winning lead turn from Tim Blake Nelson. But glacial pacing, paired with some necessary ambiguities, works against the masquerade of the action/western Ponciroli poses.
In 1906 Oklahoma Territory, a lonesome farmer named Henry (Nelson) lives with his teenage son Wyatt (Gavin Lewis), his wife having died some years before. Assisted by his nearby brother-in-law Al (Trace Adkins), it appears a humble existence, perhaps a dull one for Wyatt, who his father condemns from learning how to use firearms of any sort. One day, a bloodied horse shows up on their property. Assuming the animal's rider lies somewhere nearby wounded, Henry searches and stumbles upon Curry (Scott Haze), incapacitated and bleeding. Nearby, Henry discovers a bag full of cash. Nursing the man back to consciousness, Curry confirms three bad men, led by Ketchum (Stephen Dorff), will come looking for him. While Henry doesn't confirm he's found the cash, there's something about the old farmhand Curry finds familiar, eventually realizing he's the infamous outlaw Billy the Kid, supposedly killed in Fort Sumner decades earlier. As Curry predicted, Ketchum arrives with two other men hunting him, and aren't about to leave without claiming the loot they know he carries.
For a more comprehensive staging of Bonney's last days, the true revisionist version of this 1881 set saga already exists in Sam Peckinpah's 1973 classic Pat Garrett & Billy the Kid, where James Coburn and Kris Kristofferson stand on opposite sides of the law, geared to Biblical levels of disloyalty. Set to classic Bob Dylan tracks (who also appears in the film), it's a strangely melancholic odyssey for Peckinpah, speckled, as usual, with his glorious displays of violence. Ponciroli eventually gets there with a well-staged shoot-out between Nelson and Dorff's ragamuffins, but the action is condensed to a climactic denouement, which lasts mere minutes of the running time. Before any significant reveals, we find a born-again Christian valiantly attempting to righteously rear his teenage son, which only drives the boy to hunger for violence. Never mind how this incapacitates the young man's ability to navigate the vicious universe of 1906 Oklahoma, for we're instead distracted by the casting of Gavin Lewis, who plays teen Wyatt like a contemporary adolescent.
A mournful Nelson spends much of his screen time with the incapacitated Scott Haze (Child of God, 2013), but really shines in his menacing energies with the malevolent Stephen Dorff, posing as a Sheriff, a veritable wolf in sheep's clothing. Likewise, country singer Trace Adkins is an odd breath of fresh air as Henry's hulking brother-in-law, and one wishes he had some additional screen time.

Initially, the set-up of Old Henry plays like any number of narratives, Western or otherwise, and the arrival of a wounded stranger initially suggests the energies of Don Siegel's 1971 classic The Beguiled (remade by Sofia Coppola in 2017). The morose, downtrodden suggestion this trio is on a crash course with fate also promises something akin to Larry McMurtry, like a tangent from "Lonesome Dove." Ultimately, there's not really any sort of subtextual cachet to be found in Old Henry, but it satisfies just enough to keep one invested through the finale.
★★★/☆☆☆☆☆