Tour of Duty: Boorman Returns to Autobiographical Elements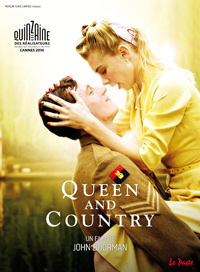 Now at 82 years of age, British auteur John Boorman returns with Queen and Country his first feature since 2006. It is a follow-up to one of the director's most cherished titles, Hope and Glory (1987), which documents war-torn England through the eyes of a child as his family survives the blitz. Though it's been nearly thirty years, Boorman sets this follow-up chapter only nine years in the future, leaving behind the horrors of WWII for the Cold War ethics of the Korean conflict. Much like he managed with the film's predecessor, Boorman achieves success by making the film a personal, insular story about a small group of characters' experiences. The powerful emotional possibilities of the child's perspective is left behind, now a young man discovering who he wants to be and what values he wishes to cherish. This makes for a more reserved, less sensational treatment than those familiar with Boorman's earlier film will most likely be expecting. But any comparison serves as disserve to this latest work, which manages to be an overall vibrant and engaging film for different reasons.
Beginning with the final frames of the bombed out school yard in 1943, we skip ahead nine years to 1952, and the young boy Bill (Callum Turner) is now eighteen years old, living with his parents on their island off the Thames (where they'd been forced to move after a fire claimed their previous residence). Shepperton Studios isn't far from where he lives, but his dreams of pursuing filmmaking are interrupted by having to serve his required two years in the National Service. Though youths are beginning to be sent off to Korea, Bill finds himself being appointed as a sergeant instructor, and he befriends Percy (Caleb Landry Jones), as much a rebellious troublemaker as Bill is straight-laced. They butt heads with their commanding officer, Sgt. Major (David Thewlis), who relishes in doling out punishments for the most minor of possible offenses.
Boorman happens to be one of those monolithic film directors that have a handful of titles, both celebrated and infamous, that tower over all the others. He's been directing features since the mid 60's, and cherished titles included Point Blank (1967), Excalibur (1981), and, perhaps more so in the UK, Hope and Glory (1987). His pop culture calling card, however, is 1972's Deliverance, which afforded him the status to produce both his worst title, The Exorcist II: The Heretic (1977), and one of the most gloriously underrated and ambitious of failures, Zardoz (1974). Such a varied filmography tends to produce rifts in his fan bases, so hopefully Queen and Country doesn't get orphaned by all sides, for its neither as strong a film as the title it follows, and neither is it inventive enough to compete with more sensational cousins.
The brunt of this falls on Boorman's characterization of Bill as a young man, here played by relative newcomer Callum Turner, a finely groomed yet incredibly dull screen presence. While many championed the performance of Sarah Miles as his mother in Hope and Glory, she's replaced by Sinead Cusack, and her storyline is sandwiched into the film's final bits, which has passing reference to her repressed and tortured flirtation with a family friend during the war. Bill's return home feels like another chapter that could have received its own film, a subtle examination of post-WWII middle class existence that feels thankless when following the barracks experience.
Another weak point is Tamsin Egerton (Winterbottom's The Look of Love) as the emotionally unbalanced woman of royal blood with whom Bill becomes smitten, given the nickname Ophelia (as in Hamlet, if that gives you any indication of her mind frame). Their romance feels like a required assignment we have to slog through, even if it does yield an interesting conversation about Kurosawa's Rashomon in relation to her subtly defined issues with depression.
Queen and Country is at its most energetic when featuring Turner's interactions with a slew of colorful characters on base. David Thewlis appears in his most unhappy role since Mike Leigh's Naked as a control freak Sergeant that drives Bill and Percy mad. Caleb Landry Jones is the definite scene stealer, an actor that has the sort of unheralded presence where certain insanity always seems to lie beneath his slightly uncontrolled guffaws. His presence sometimes verges on distraction (especially considering he's not British), but he's a welcome reprieve from the rather wooden Turner. And then there's a very entertaining Richard E. Grant as a prissy, sarcastic major, his weary countenance reflecting that the internal regulations of the camp seem particularly rigorous and exhausting.
Though one doesn't have to experience Hope and Glory to appreciate Queen and Country, it does lend a bit of weight to the narrative continuation if you are familiar. While Bill is apparently Boorman, who we understand to have a burgeoning obsession with film, it explains the rather comfortable familiarity of these films, and we get the sense that Boorman has a lot more he could tell. Premiering at the 2014 Cannes Film Festival in the Directors' Fortnight section, one hopes its reception will grant Boorman the opportunity to get some other planned projects off the ground.
★★★/☆☆☆☆☆