Once Upon a Time in Hollywood | Review
California Dreamin': Tarantino Dons Nostalgic Pastiche of Doomed Decadence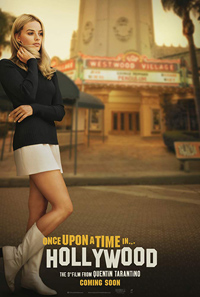 The lurid fascination and mildewed devotion for the transitional glory days of late 1960s Hollywood, informed by chaotic political and aggressive cultural shifts, owes much of its self-mythologizing thanks to the events which took place in August, 1969—the infamous Tate-LaBianca murders orchestrated by Charles Manson's brainwashed cult members. A media event which sent a ripple of fear and loathing throughout a previously oblivious community of frivolity, privilege and self-absorption, it was a hotbed of intersecting social issues, the root causes of which were ignored in the crusade highlighting Manson's monstrosity rather than the culture which created him. Quentin Tarantino uses this as the backdrop for his latest cinematic indulgence, Once Upon a Time in Hollywood, which, as the title suggests is a benevolent homage to Sergio Leone and his spaghetti western successors. In keeping with several past works, such as Inglourious Basterds and Django Unchained, Tarantino's violence imbibed fairy tale is a work of revisionist sweetmeat, presenting a preferred reinterpretation of reality to appease an escapist need for the revenge fantasy's false comforts.
What Tarantino prefers, and sometimes does best, is meander away from the situation at hand. Polanski, Tate, Manson and the whole cavalcade of notable historic players in the events of Cielo Drive are on the periphery of a narrative which concerns a fading B movie star, Rick Dalton (Leonardo DiCaprio) and his dependence on his stuntman (a favored Tarantino flourish), Cliff Booth (Brad Pitt), who in many ways, is more well preserved.
Both actors get a handful of signature moments, with Dalton struggling to overcome the hard transition from television star (he's best known for the Western television show "Bounty Law") to leading man—something he's already on the cusp of failing by February 1969 (as explained by Al Pacino in an entertaining bit early on, Dalton has too many guest spots on TV shows where his villain is always conquered by the hero). Dalton spends his time grappling with the fast approaching expiration date of his career (which leads to some of his best moments on the set of new Western, where Timothy Olyphant appears only be overshadowed), eventually leading him to Italy, where he spends six months making a handful of films, including Nebraska Jim with Sergio Corbucci (a nod to the Burt Reynolds headlined Navajo Joe). These include some of the film's best bits because it allows Tarantino to play with ideas he may himself have utilized had he worked in the period.
Pitt's character gets to have a bit more fun, interacting with other Tarantino regulars, which includes a stand-out sequence with Kurt Russell and Zoe Bell following a potentially problematic face-off with Bruce Lee (the only non-white character to populate the film's landscape). Margot Robbie appears as Tate, a revered beauty trying to prove her talent. Her only real extended sequence features Robbie attending a matinee of The Wrecking Crew, a forgotten Dean Martin vehicle in which Tate co-starred shortly after picking up a copy of Thomas Hardy's Tess of the D'Urbervilles, an adaptation Polanski eventually made in 1971 with Nastassja Kinski. One wishes some of the other set design's imaginary Dalton posters were actual realities (including a delightful looking Jigsaw Jane headlined by Suzanne Pleshette), peppered amongst the marquee titles of actual films (Lady in Cement, Pretty Poison, and Friedkin's The Night They Raided Minsky's all dance across the screen). Notably, the title is also the final film of Luke Perry, who shows up as a co-star in one of Dalton's productions.
And we're left wending a way through a climate of absolute dread as Rick and Cliff zoom up and down the curved roads in the Hollywood Hills at breakneck speed, waiting for the appearance of the Manson clan. They arrive through a cipher played by Margaret Qualley as a Tarantino figment named Pussycat, a dirty-kneed hippie who tries to seduce Pitt, which leads to one of the film's most eerie scenes when he drops her off at the clan hideout at the Spahn Family Ranch—which features a fitting Dakota Fanning as Squeaky Fromme and Bruce Dern as the dilapidated Spahn.
Despite its loving recalibration of 1969 Hollywood, and what exudes Tarantino's usual kind of rough and tumble good will for the people and places of his celluloid obsessions, Once Upon a Time in Hollywood is somehow his least indulgent offering to date if mostly because it never really builds to the same euphoric peaks. Soundtrack selections, including covers of fitting period pop, like famous tracks from The Mamas and the Papas and The Supremes, among many, never define or overwhelm as is Tarantino's wont. Instead, for the most part, this is more of a palette designed to showcase technical feats, such as DP Robert Richardson (who has shot Tarantino's films since Kill Bill) and its director's unquestionable deference for his subject.
As such, it's a bit of an underwhelming endeavor and fails to address (except by how it feeds into it) the white male privilege it displays and subconsciously reinforces. Still, for those who will see what they wish to find, it's a feast of nods and associations. And yes, it does reach a significant crescendo (finally) in its last act.
Reviewed on May 21st at the 2019 Cannes Film Festival – Main Competition, 161 Minutes
★★★/☆☆☆☆☆