Where'd You Go, Bernadette? | Review
Fox and Her Friends: Linklater Falters on the Architecture of Blanchett in Bizarre, Uneven Dramedy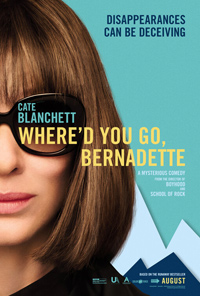 The boldest move made by Richard Linklater in his latest offering, Where'd You Go, Bernadette? is the film's unabashed vitriol for Seattle, portrayed as a characterless tech city where creative personalities are destined to wallow in the death of their dreams. It's also a film completely wasted on a formidable central performance from Cate Blanchett playing a woman in full-throttle neurosis on the verge of a breakdown, whose talent and capabilities are like a black hole for all the pandering, cloying nonsense littering the film's periphery.
Adapted from a novel by Maria Semple (the adaptation of which brings Linklater back to scribes Holly Gent and Vince Palmo, who wrote his 2008 film Me and Orson Welles), the final product, of which the theatrical release has been significantly delayed, has all the markings of a failed salvage job with material which seems endlessly overworked and spackled together into a hodgepodge of sparring tonal elements. With a running time of two hours and ten minutes, its meandering scope jostles schizophrenically between broad comedy fumes (which seem to have been scrubbed to oblivion) and a frenetic character study from which Blanchett rises like a phoenix in the grand tradition of a Judy Davis or a Gena Rowlands.
Bernadette Fox (Blanchett) was once prized as a genius, burgeoning architect. But twenty years ago, she left Los Angeles for Seattle with her husband Elgie (Billy Crudup), a tech guru developing mind-reading software with Microsoft. After struggling to conceive, they had Bee (Emma Nelson), and Bernadette poured all her creative energies into her relationship with her child, who was born with significant health issues. Now, as Bee is about to embark on a prep school adventure across the country, she convinces her parents to take her to Antarctica, the continent she's been researching in school. For the past two decades, Bernadette has become something of a recluse and social pariah, and while she agrees to the trip, it causes an immediate downward spiral.
Where'd You Go, Bernadette? is saturated with glossy irreverence, mistaking itself as an interesting, plucky portrait of how sardonic but devastating white privilege looks like gone awry. In their palatial Seattle mansion, Blanchett and Crudup exist in a curious Grey Gardens ellipsis (or, perhaps, more comparably, as the higher-functioning elitist version of the wealth mongers in The Queen of Versailles, 2012). That's not to say Bernadette isn't a sometimes-captivating personality—Blanchett gives her enough tics and a complex emotional range to suggest the wealth of enjoyment likely derived from Semple's source material.
Even at its most banal, Blanchett is able to inspire emotional investment from the audience (a sing along to Cyndi Lauper, for instance—though this is hardly the actor's shining hour for car sing a-longs—revisit Barry Levinson's Bandits for that "Total Eclipse of the Heart" montage). But it takes a good forty-five minutes of jittery, flat strides to get to the meat of the proceedings. As the suburban harridan next door, Kristen Wiig distracts, doling out her own specific comedic tones as social planning harpy Audrey—but it's a vehement verbal exchange with Blanchett and Emma Nelson which revives the film's faltering pulse.
As Blanchett finally takes flight, after a disastrously staged intervention involving a wasted Judy Greer as a therapist and James Urbaniak as a droll but hopelessly unrealistic FBI agent (arriving to announce Bernadette's inventive exposition exchanges with Manjul, her virtual assistant in India, is actually a Russian crime syndicate poised to steal all their assets), the slow trundle towards the third act sets in. However, the novel reconciliation in Antarctica fails to make use of its exotic setting and instead gives us more fractious interactions with kooky but likeable supporting characters (including Kate Burton) in Bernadette's mad-dash to resurrect her architectural career on the South Pole—apparently any kindly white lady in a downward spiral is prone to a hearty, whimsical exchange.
Billy Crudup's approach seems to hail from a different film entirely, though what's left of the filmed script doesn't give him much room to develop and willfully sweeps over questionable behavior (such as bringing secretary Zoe Chao, a woman his wife has expressed disdain for, into their home for a poorly staged intervention). Megan Mullally, Steve Zahn and Laurence Fishburne (who was in Linklater's last feature, 2017's Last Flag Flying) are remnants of her illustrious career as a genius Los Angeles architect from twenty years prior (relayed mostly through an overly long and incredibly grating documentary filling in all the potential blanks). Bizarre, if only because it has to be due to how everything eventually congealed, Where'd You Go, Bernadette? can't balance out the remainder of the film with its superb leading lady, while Linklater's penchant for woebegone familial angst and vibrant supporting personalities works against her.
★★½/☆☆☆☆☆