Triangle of Sadness | Review
Voyage of the Damned: Östlund Frowns Down Upon Hardwired Human Folly in Devious Satire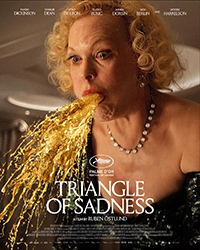 Ruben Östlund has built an impressive filmography satirizing social norms, with each project further widening his scope and sharpening his critiques. Last on hand with his Palme d'Or winning The Square (2017), Östlund aims to skewer as well as entertain with his most ambitious endeavor yet in Triangle of Sadness, a term used as a euphemism for frowning, which changes one's face shape into the inverted shape.
At turns hilarious and aggravating, there's nothing Östlund's saying not already evident in the annals of history regarding humankind's baseline of corruption. Rather than speaking truth to power, he's heavily underlining how power is and always will be a corrupting force no matter the idealized social organization or structure employed because there's always the human quotient which erodes the intentions and tenets of any economic or political system. Even by Östlund's own output, his latest tends to feel a bit self-indulgent, but it's more often than not a lot of subversive fun.
Model and social influencer Yaya (Charlbi Dean) scores a free pass on an exclusive yacht cruise, which she attends with her boyfriend, Carl (Harris Dickinson), also a model. They mingle with other guests as Chief Steward Paula (an amusing Vicki Berlin) struggles to keep the ship's program on point as Thomas (Woody Harrelson), the captain, refuses to leave his room prior to his obligation to attend the Captain's Dinner. Since the staff cannot tell the clients no, a foolhardy fancy of one of the passengers requesting the entire crew take a break to utilize the pool results in the partially prepared seafood intended for dinner to spoil. As an abrasive storm breaks overhead, mass food poisoning takes over the ship. And before the staff has a chance to clean up the debacle, they're attacked by pirates and the ship sinks. A handful of passengers and crew wash up on an island, where money is no longer the viable currency for survival.
Even despite its transparency, including leading bits of dialogue which tend to land too on-the-nose, Triangle of Sadness operates at the level something like Don't Look Up fell so woefully short of in articulation (as well as comedy). It's bookended quite effectively in an inverse paradigm, its three act structure suggesting the upside down triangle of the title to bring us to the promised frown.
Beginning with a discourse on gender roles occurring in a patriarchal system, further complicated by a reversed equity in (parts) of the beauty industry, the Lord of the Flies style third act suggests a matriarchy wouldn't be above abusing its power and delineating its own gendered division of labor. Touching on masculine fragility, female manipulation, and the blurry intersections of capitalism and communism, the film operates as a heteronormative, Poli Sci major's candy land. That's not to say Östlund is oblivious to queer intersections, as the film opens with a blatantly flamboyant gay man interviewing auditioning male models whose own lechery is seemingly forgiven for being so obvious (and expected).
The first chapter, detailing the fraught relationship of models Carl and Yaya is entertaining, if a bit conspicuous, though not for a lack of entertaining performances from Harris Dickinson and Charlbi Dean. Social media and politically correct superficialities regarding how fashion has changed to include the importance of one's 'inside,' and the popular slogan 'everyone is equal' is clearly lip service, creating something more cynical than satirical. Not to mention, this establishes a sense of Östlund's dislike for this world and these characters (meaning the audience is coaxed to feel the same way—-and it's a long film to sit through feeling ambivalent about their fate).
Shot by Fredrik Wenzel (who also lensed Force Majeure and The Square for Östlund), it's an impressively staged production consistently pleasing to the eye, though Östlund's smaller scale films, like Play (2011) or Force Majeure (2014) feel a bit more astute. But where the film really takes off is on the yacht, detailing the unfortunate reality of service workers tasked with tending to customers who cannot be told no. Östlund delivers all the best zingers here, highlighting the utter detachment and foolishness of elitists, where often those least capable have the most control.
Morosely convivial ship captain Woody Harrelson and an unflappable Russian oligarch played by Zlatko Buric (of Rein's Pusher trilogy) are on fire while drunkenly trading quotes from Marx, Lenin, Reagan and Thatcher as a storm rocks the ship and food poisoned passengers vomit and defecate so extensively the ship's toilets begin to reject their bulk deliveries. It's a madhouse sequence which plays like Pasolini's version of The Poseidon Adventure (1972), and hits a zenith the remainder of the film doesn't quite reach. Östlund tries to throw in a modicum of just desserts, such as a pair of geriatric weapons manufacturers getting blown up by the very device they trafficked, another moment thwarted by lack of subtlety.
By the time the shipwrecked survivors make it to the island, the system of exchange has evolved into a hierarchy dictated by survivor mode, and toilet cleaner turned savior Abigail, played with rewarding glee by Dolly De Leon, promises to be the only real likable and rewarding human—-but even she allows herself to be corrupted. Interestingly, this makes for the most potent talking point in Triangle of Sadness. If patriarchies and matriarchies result in the same system of exploitation and corruption, is the social construct of gender a core factor in our continual penchant for degradation?
Reviewed on May 21st at the 2022 Cannes Film Festival – Main Competition. 150 Mins.
★★★½/☆☆☆☆☆