Rumble: The Indians Who Rocked the World | Review
Beat The Drum: Bainbridge & Maiorana Define the Source for Our Favorite Music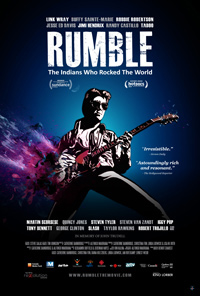 Rarely do documentaries so tactfully strike at the very heart of what defines a culture, especially the music behind that culture. Catherine Bainbridge (Reel Injun) and Alfonso Maiorana (Mohawk Girls) have orchestrated a densely informative and uniquely stylistic look into the significant role of Native Americans in popular music. It matches its eclectic background of knowledge with a profound respect for the people and histories being told, resulting in a distinctive investigation into the very soul of Blues, Rock, Jazz, and Funk. Rumble: The Indians Who Rocked the World is a film that possesses an incredible style, pizzazz and a deep desire to tell a profound story that is seldom told.
Structured around particular artists of individual genres rather than a strict succession of chronological events, the filmmakers take long strides across the American south from North Carolina to California, following the music of each region and its deep ancestral ties to Native tribes.
While being scored by significant Native artists like Charley Patton, Mildred Bailey, Link Wray, Jimi Hendrix, Jesse Ed Davis and Buffy Sainte-Marie, historical notes of the tribes from which their families originated add context to each musical contribution and paint a backdrop of dispossessed and maltreated peoples. All the while, interviews ranging from Martin Scorsese to John Trudell to Quincy Jones, interlaced with many historians, musicians, poets and songwriters make up a colorful and lively presentation to explore the Native sounds that built and define American music.
Most prominently, the musical arrangement is masterful and undaunting, scoring avenues of history in a way few directors have managed outside of Ken Burns' Jazz and Penelope Spheeris' The Decline of Western Civilization. A tune never overstays its welcome, and always is thoroughly investigated as to why it is significant in its connection with Native music. As an underscoring song becomes the main topic, interviewees break down the context, intent and eventual influence, rounding out each arc of the film delivering captivating insight.
The original footage captured by Maiorana is intoxicatingly attractive and made ever more so by Benjamin Duffield (Kept Woman) and Jeremiah Hayes' (Reel Injun) editing, which bursts with astounding artistic flourishes and memorable transitions.
With a clear mandate to represent the underrepresented side in American musical history, Bainbridge and Maiorana don't stray from this intent or try to posit ideas that are out of place, making the whole docu taut and engrossing for its entire duration. Rarely does a segment feel overly drawn out or better yet under-utilized, and by the film's conclusion, the filmmakers elevate the contemporary Native humanitarian issues and music beyond just an historical account.
Whether a newcomer or veteran of its many sonic soundscapes, Rumble: The Indians Who Rocked the World is an inexorable milestone in documentary filmmaking and in capturing the history of Native Americans.
★★★★½ / ☆☆☆☆☆