Rob the Mob: Sealy Pushes a Grandmother into a Gang War in Enjoyable, Slight Debut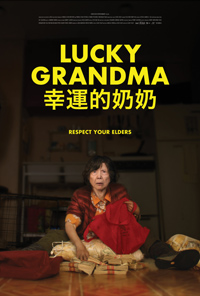 Geriatrics involved in criminal activities have become something of a comedic niche, though examples showcasing them, or cinematic senior citizens in any capacity, are few and far between. The numbers dwindle even further by various intersectionality, and so something like Lucky Grandma, which allows actress Tsai Chin (The Joy Luck Club, 1993) one of her most notable performances in a lengthy filmography, definitely feels like an anomaly for many reasons.
The directorial debut of Sasie Sealy, co-written by first-time scribe Angela Cheng, showcases an elderly Chinese woman in the teeming microcosm of New York City's Chinatown and.is a comfortable foray into a contained world most often explored in the US by English language technicians. Shot mostly in Cantonese and Mandarin, the film hints at the vast array of communities in the United States who barely seem to show up on screen, which only furthers a certain foreign flavor to Sealy's debut.
Ornery and emotionally destitute Grandma Wong (Tsai Chin), recently widowed and left in a heap of debt, is told by her fortune teller (Wai Ching Ho) her luck is about to change. Indeed, it just might be, as she wins some rice at a market near her home in Chinatown simply for being a lucky numbered customer of the day. And so, she goes on a spree at the casino, losing all the money she had. But on the bus ride home, a notorious Chinese mobster happens to sit next to her, but quietly dies en route. He was also carrying a bag of cash and Grandma Wong takes the money. Is this the luck the fortune teller meant? Unfortunately, others on the bus noted where she was sitting, and when his gang affiliates come looking for the money, she hires rival gang member Big Pong (Hsiao-Yuan Ha) as a bodyguard. But the mobsters prove to be more enterprising than she expected.

Compared to the Coen Bros. for its jaunty mix of a seedy criminal element jarring the lives of unassuming characters, Lucky Grandma is perhaps more appropriately aligned with some of Johnnie To's more droll ventures (something like 2013's Blind Detective comes to mind).
Grandmas being naughty isn't an entirely new concept, and the resilient curmudgeon portrayed by Chin is also reminiscent of Bernadette Lafont in one of her last on-screen appearances as the weed-swindling old woman in 2012's Paulette. What's most unexpected for Sealy's film is the subtlety of Chin's performance. From its opening sequences with Wai Chung Ho's (recently of Hustlers, 2019) vibrant fortune teller, one could expect a film dependent on over-the-top slapstick. But Tsai Chin's performance is one of small gestures and facial tics, which commands the screen in what could have been forgettable or frivolous.
Small asides in English with her grandchildren are almost jarring, a reminder of her trenchant dissociation with the world outside of a few city blocks. Some interesting chemistry develops between Grandma Wong and her bodyguard Big Pong, but the second half of Sealy's feature gets bogged down in mobster semantics. However, since none of the criminals get any real characterization (though a spa sequence with a quietly malevolent Sister Fong, played by Yan Xi hits this sort of energy), the tension and ensuing violence feel a bit flaccid, despite a well-executed shoot-out in the third act.
★★★/☆☆☆☆☆