The Killing of a Sacred Deer: Cooper Wanders Unevenly into Indigenous Lore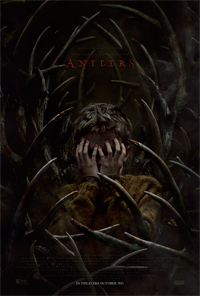 Director Scott Cooper moves beyond the comfort of his melodramatic roots with Antlers, a moody horror film which delves superficially into the rich potential of indigenous folklore. Like his previous films, the focus remains on down-and-out, traumatized denizens defined by a particular time and place, this time battling demons both hypothetically and literally.
A fine cast led by a strong performance from Keri Russell allows for a stellar build into a cruel, cold, dark world where both sexual and physical abuse seem an expected right of passage for small town Oregonians ravaged by an opioid and economic crisis. But when it comes time for its revelations, the script by Cooper, Nick Antosca (adapting from his own short story "The Quiet Boy") and Henry Chaisson betrays the intelligence of its audience by resorting to on-the-nose exposition and a predictability which tends to feel exploitative. Still, for the first two acts, Cooper succeeds with a rare sense of the dismal and the dreadful.
In Cispus Falls, a rural town in Oregon, Jules (Russell) has returned home to live with her brother Paul (Jesse Plemons) following the death of her father, a man whose abuses caused her to flee to Los Angeles years prior. During her absence, Paul has become the town Sheriff and the siblings dance around traumatic memories. Now sober and working as a middle-school English teacher, Jules' attempts to find a rhythm are interrupted when she notices one of her students, Lucas (Jeremy T. Thomas) begins to exhibit signs of abuse. Alerting the principal (Amy Madigan), who quickly disappears after stating she would investigate, the small town is suddenly subjected to the violent mayhem of what seems to be a vicious creature lurking in the nearby woods. As Jules becomes more involved with Lucas, it appears something sinister has ravaged his family, something destined to spill over into the community at large and claim them all.

Much like his last film, 2017's grueling period drama Hostiles, Cooper's obvious favoring of white characterizations tends to rob their Indigenous counterparts of any real authenticity. If such observations felt more negligible in his previous film, Antlers without a doubt plunders cultural inspirations for an eventually lackluster finale. Where the film stumbles hard is with some rote exposition provided by none other than cherished character actor Graham Green in a sequence as risible as a similarly staged moment in The Conjuring: The Devil Made Me Do It (2021).
Up until this point, Cooper allows for some fantastic character work courtesy of Russell and his regular collaborator Jesse Plemons (this despite the requisite pipe laying with dialogue like "Hey, sis," when the relationship between siblings eventually confirms itself in their dialogue and dynamic). Jules plays like a rarity amongst white women shouldering the narrative brunt in English language horror cinema, battling addiction, the trauma of her past, and the guilt in abandoning her brother to her abusive father's machinations. It's clear to see why she so fortuitously takes an interest in Lucas (an appropriately reserved Jeremy T. Thomas) as she sees salvation in being the savior she couldn't be for her brother, the same olive branch she so desperately needed herself. What's missing is a beat or two clinching the bond between these two characters to explain what desires to be a Sigourney Weaver-in-Aliens triumph.
While Green feels squandered, others in the supporting cast are persuasive, such as Scott Haze (recently of Old Henry, 2021) and the always likable Amy Madigan (who is treated to quite the grisly end, bordering on body horror), playing to the kind of privilege which seems to explain why certain people may have no sense of self-preservation (and underlining how Jules' past has equipped her with such strength and resiliency).
Things feel a bit wonky when it comes to the supernatural presence, a Native American being better outlined in Larry Fessenden's 2001 film Wendigo, but here feeling more akin to the amalgamation of elements comprising the lizard-thing in The Relic (1997). Well shot in dreary, small town muteness by Florian Hoffmeister (A Quiet Passion, 2016) and just the right kind of brooding score from Javier Navarrete (Pan's Labyrinth, 2006) allow for a properly set stage, but ultimately both the title and so-so denouement make Antlers feel like something we would have seen in the "Masters of Horror" series from the mid-2000s (especially since John Landis had an entry in the series called "Deer Woman").
★★★/☆☆☆☆☆