Casa Susanna | 2022 Venice Film Festival Review
The Enchanted Cottage: Lifshitz Salvages a Segment of Transgender History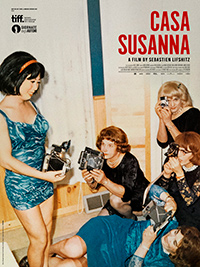 Although he began his directorial career in the vein of free-spirited indie narratives navigating the fringes of queer and trans perspectives, French filmmaker Sebastien Lifshitz has exclusively delivered documentaries for well over a decade. Either focusing on a specific subject, (such as the non-binary eight-year-old of 2020's Little Girl, or his 2013 profile on Marie-Pierre Pruvot in Bambi) or a group perspective, (such as the elderly gay men and women of 2012's Les Invisibles or the tempestuous friends of 2019's Adolescents), Lifshitz has spent a large part of his career shining on a light on erased histories and neglected viewpoints from a community already defined by historical (and ongoing) disenfranchisement.
His latest, Casa Susanna, details the happenings at a secret house in New York's isolated Catskills of the 1950s and 60s, where a group of transgender men would gather on the weekend, often with their spouses, in a space where they could truly be themselves. Arriving in the wake of a book of photographs published by Harvey Fierstein and a 2015 play he wrote called Casa Valentina, Lifshitz presents an intimate, nostalgic glance at the hope and resiliency of a community, interviewing two real-life subjects who were part of the community, each making a sojourn to the now empty facade holding so many potent memories.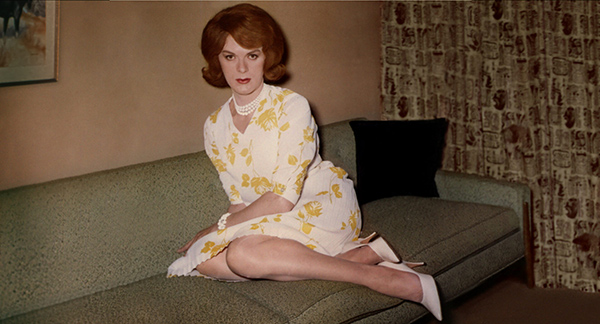 In the mid twentieth century, there was a house in the Upstate New York run by a host named Susanna (though when dressed as a male in the real world, he was known as Tito), a sanctuary for men who dressed as women to explore their secret, dangerous desires, with their understanding wives usually in tow. Eventually, Casa Susanna changed ownership, and over the ensuing decades, as the mainstays of the secret group grew older, this group disbanded, the memories of which could have easily withered away forever if not for some photographs which surfaced from the period, generating interest in the clandestine club. Lifshitz interviews two original members of the house of Susanna, Kate and Diana, as well as several children of other club members whose parents have since passed away.
Lifshitz presents a mix of talking heads with a smattering of photographs taken from Casa Susanna (there aren't many, since photographic evidence meant potential blackmail for any material falling into the wrong hands) and period news clippings and footage from the period. Christine Jorgensen, natch, makes another archive appearance, but Lifshitz does have the novelty of capturing first hand accounts on his subject with Kate and Diana, both now in their eighties (Lee Grant had a similar opportunity to interview Jorgensen at an advanced age for a similar retrospective overview in her 1985 documentary, What Sex Am I?).
As equally touching as it is to witness Kate and Diana revisiting the physical remnants of Casa Susanna, another fascinating perspective arrives in the children of parents who attended these summer weekend idylls, such as the daughter of science-fiction writer Donald A. Wollheim. A treasure trove of tidbits arrives thanks to her passing on memories her mother finally revealed just prior to a surgical operation in 1994. Throughout, there's a unique trajectory of how archaic understandings of non-conforming gender roles have evolved in the past sixty years.
Obviously, the language many of these people used to describe themselves and their peers has been abandoned for more appropriate terminology today, such as crossdresser and transvestite. It's curious to hear how the hotspot was intended for heterosexual men who preferred to dress as women, when, in reality, the denizens were likely much more varied and complex than the limited language of the time would have permitted for (not unlike the Lee Grant doc, where a clunky struggle to describe what we'd now call non-binary was equally apparent). Gentle, but overall absorbing, Lifshitz adds another chapter to his own varied, priceless scrapbook of queer and trans realities his energies and investments have saved from the continual erasure of ignorance and hatred.
Reviewed on August 31st at the 2022 Venice Film Festival – Giornate degli Autori. Special Events. 97 Mins
★★★/☆☆☆☆☆