A Man (Aru Otoko) | 2022 Venice Film Festival Review
The Good Thief: Ishikawa Explores the Tenuous Reality of Identity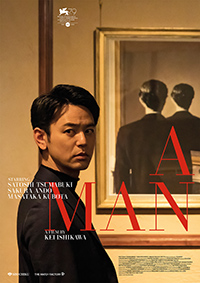 As its elemental title suggests, Kei Ishikawa's fourth film, A Man, asserts we can only ever really know for certain the most basic information about someone else, based almost solely on the superficial presentation of their person. The rest is subject to interpretation and, well, we usually have to take someone's word for it when they disclose more private details about who they are.
In keeping with his past films, such as Gukoroku (2016) and Listen to the Universe (2019), Ishikawa combines elements of individuals searching for themselves with a thriller procedural constantly shifting when new information comes to light. And like the immortal woman at the center of his 2021 title Arc, the chance to reinvent one's self is a double-edged sword where the outcome is dictated by fate in this narrative drifting from gentle romantic drama into something vaguely sinister, uneasy, and complex.
Daisuke (Masataka Kubota) is a handsome stranger who arrives in a small town taking a job as a tree faller. The locals gossip about him, the son of a notable innkeeper from afar, seeming to have run from wealth and destiny to pursue a quiet life, seeing as he is often wandering around town sketching pictures. At a local supply store, he's taken with Rie (Sakura Ando), who runs the store. A divorced woman who is raising her young son with help of her anguished mother, Rie shares a quiet flirtation with Daisuke, who learns her marriage dissolved due to the death of another child who suffered a lethal medical condition she disagreed on treatment of with her ex-husband. They marry, with Daisuke adopting her child and together they have a daughter. Suddenly, Daisuke dies one day at work in a tragic accident, but in the collection of his insurance money, she learns Daisuke was not the man he says he was when his family arrives from afar. Consulting with her attorney, Akira (Satoshi Tsumabuki), he begins to investigate on Rie's behalf, seeing as she's neither been legally married nor a widow (and meaning her children will have to now change their surname as she never knew the real identity of the man she married). Quickly, Akira discovers a sort of identity broker who orchestrated this switch—-but details don't add up, leading to more twists and turns about who these men were and why they wanted to become someone else.
Initially, Ishikawa sets up a makeshift family scenario in the vein of a Hirokazu Kore-era film. Masakata Kubota (of Takashi Miike's First Love, 2019) is initially disarming, if a bit strange, seeming to have targeted Rei and her son like a cuckoo bird looking to infiltrate a nest. But Rei's Sakura Ando is so disarming and vulnerable a believable chemistry immediately blossoms. Before we even hit the end of the first act, time speeds up exponentially, with years passing and Daisuke dying tragically when crushed beneath a tree he fell. Trees increasingly take on emblematic proportions as Rei's lawyer Akira finds himself in the role of amateur sleuth, mining the various identities donned by the man formerly known as Daisuke. It's here where A Man suddenly shifts gears into Imamura territory, recalling the 1967 documentary A Man Vanishes, and then, as details get a bit more complicated, it's Patricia Highsmith or Kobo Abe strangeness, where the notion of identity ascends into a sort of nebulous game. The opening and closing shots of a character framed within a shot of a painting in which the back of a man's head can be seen looking at the same view in a mirror is a beautiful visualization of this Russian doll scenario of triangulation.
The actual centrifugal force ends up being Tsumabuki (who played a different kind of detective in Tetsuya Nakashima's The World of Kanako, a more gonzo film about secret lives and those seeking to finds answers to questions which might just be futile in the first place), playing Akira as a man who slowly begins to learn his own relationship isn't quite what it seems. Through his search in trying to track down the real Daisuke, a notion unfolds of one generation building something specifically for the purpose of the next to tear it down, suggesting an endlessly Sisyphean cycle of creation and destruction in which we're all likely playing some sort of role without quite realizing it.
Reviewed on September 1st at the 2022 Venice Film Festival – Orizzonti. 121 Mins
★★★½/☆☆☆☆☆