Blue Jean | 2022 Venice Film Festival Review
Personal Best: Oakley Exhumes the Terror and Trauma of Life in the Shadow of the Iron Lady
For her directorial debut, Blue Jean, Georgia Oakley hearkens back to the troubling state of events in 1988, England, the year in which she was born. It was the year Margaret Thatcher's conservative, homophobic government established Section 28, which sanctioned the 'promotion of homosexuality,' thereby forcing the LGBTQ+ population into hiding, cementing an existence of double lives and code switching until it was repealed in 2003 (though Scotland offloaded the clause in 2000).
Exploring the initiation of this witch hunt through the eyes of a lesbian gym teacher just beginning to grapple with the necessity of claiming her sexual identity in the public sphere, Oakley crafts both a touching character study and an agonizing period piece serving as a reminder of the toxicity underlining significant historical trauma for a disenfranchised community. With the AIDS crisis in full swing, these were laws designed to eradicate visibility and ensure an infantilized state of vulnerability. Challenging despair with a hopeful portrait of resiliency, it's an exercise in resistance by reminding us to pay closer attention to where we're going by never forgetting where we've been.
In 1988 England, high school gym teacher Jean (Rosy McEwen) has a comfortable life. While she's not particularly close with her colleagues or her family, none of whom know she's gay, she enjoys herself discreetly, attending a local gay dive bar where she meets with a group of friends she's met thanks to an increasingly serious dalliance with Viv (Kerrie Hayes). When Lois (Lucy Halliday) arrives as a new student, Jean immediately feels protective of the loner tomboy, especially as she sparks the immediate ire of Siobhan (Lydia Page), a young woman who always seems desperate for Jean's attention.
With Thatcher's Section 28 legislation dominating the news, Jean finds herself backing away from both intimacy and public socialization with Viv. But when Lois suddenly shows up at the local gay bar and wheedles her way into Jean's friend circle, the terrified teacher can't quite get a grasp on what to do. When an altercation at school manufactured by Siobhan compromises Lois, Jean is challenged to do the right thing.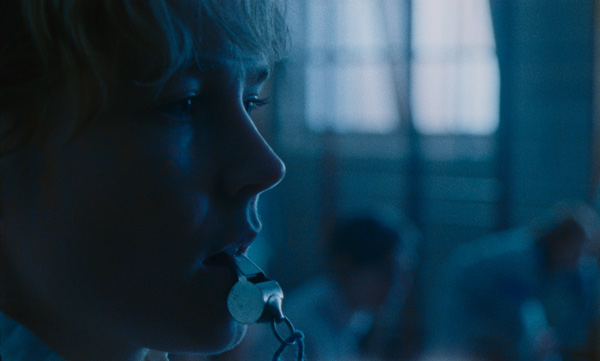 Oakley's opening moments, featuring Jean dyeing her pixie cut blonde before going to work, signals we'll be following this woman in close proximity, with DP Victor Seguin's cinematography initially reminiscent of something like Barbara Loden's intensely realized Wanda (1970). Comparative thematically to Loden, this is also a tale of those forced to come together in the periphery, though Jean is still emotionally dependent on utilizing her 'straight' privilege, embarrassed about the gender blurring rejection of the closet by her maybe-girlfriend, Viv.
Kerrie Hayes transforms herself in this supporting characterization, and she's a vibrant counter to the placid Jean, brazenly present, and often poignant, in a role which could have merely served as a catalyst for the plot's mechanics. But the real dance occurs between Jean and Lois, the former galvanized by her inability to protect the interests of her student, despite being moved by the flinty rebellion in the younger woman she so desperately wants to exude herself. McEwan is captivating, her performance capturing the words, fears, and anxieties left unsaid but bleeding into her posturing, where discomfort and omnipresent apprehension of a world closing its doors to her true self strikes deep.
While Blue Jean isn't re-writing the formula of these tropes, whether it's the coming-of-age for Lois or the embracing of self for Jean, we're led to the human resonance which makes these kinds of narratives so potent and necessary. Oakley allows us a reprieve, with Jean (to reference an iconic role from Maggie Smith) perhaps reaching the horizon of her prime despite the dark cultural reality unspooling before her. She's here, she's queer, get used to it.
Reviewed on August 31st at the 2022 Venice Film Festival – Giornate degli Autori. 97 Mins.
★★★½/☆☆☆☆☆