Reviews
Six Dance Lessons in Six Weeks | Review
Dance, Fools, Dance: Performances Elevate Seidelman's Stagnant Adaptation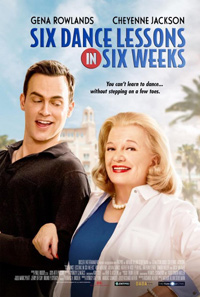 Marking the fifth film collaboration between director Arthur Allan Seidelman and writer Richard Alfieri is Six Dance Lessons in Six Weeks, the adaptation of the latter's Broadway play. It's garish, highly photo-shopped poster places an uncomfortable and off putting stress on the film's marketing campaign, which seems to be geared toward senior audiences attracted to headlining screen legend Gena Rowlands. Seidelman surpasses these limiting expectations with a product that ends up being incredibly sweet and surprisingly charming, even though it never transcends its choppy staginess, which is glaringly evident whenever it turns away from the unique energy of its two leads.
Struggling Broadway actor turned dance instructor, Michael Minetti (Cheyenne Jackson) has been forced to relocate to his childhood hometown in Florida. There, he is forced to take a job utilizing the only skills available to him, but he gets off on the wrong foot with his first client, Lily Harrison (Rowlands). Determined to complain about Michael to his boss (Julian Sands), Lily's heart is softened to hear that Michael is supporting a sickly wife by taking this job, so she agrees to let him continue as her in-call instructor. Of course, the wife bit ends up being a blatant lie, as Michael and Lily get to know one another, they develop a tender friendship, leading them both to reveal personal truths. Together, they're able to examine past mistakes and current goals.
A series of genuinely thorny but sincere conversations make experiencing the clunky set up of Six Dance Lessons in Six Weeks at least worthwhile. Initially off-putting and manic, the script takes its sweet time to allow dance instructor Michael Minetti to settle into an actual characterization, his abrasiveness used for obvious catalyzing effect. It's a testament to the charm of Cheyenne Jackson that we can leave all that behind, a performer forced into doing double time to pull this scenario off with aplomb. As the crusty old biddy, Rowlands makes a welcome return to the screen, though at eighty four years of age, there is a continual distraction at the mention of her character being sixty-eight (even a secretive reveal doesn't quite overcome this).
Their chemistry is inviting and effortless, revolving around provoking conversations constantly being interrupted by the film's attempts to keep the film light and frothy, such as an unnecessary and unrealistic neighbor lady played by Rita Moreno, who appears to be gifted with superhuman aural abilities. While Julian Sands and Anthony Zerbe are on hand to no apparent effect, Jacki Weaver as a horribly bewigged and unashamedly horny client of Minetti's ends up resembling the monstrous younger sister of Sally Struthers for cheap laughs.
More glaringly, it doesn't help that considerable use of green screen is used to distracting and obvious effect, cheapening the film's look and feel. While it's sure to appeal to those familiar with the powerful Rowlands, Six Dance Lessons in Six Weeks manages, despite the straightjacket formula laid out in its title, to be more alluring than many of its mainstream counterparts as pertains to its ability to reach a certain sense of pathos.
★★/☆☆☆☆☆