Reviews
Exodus: Gods and Kings | Review
Death on the Nile: Scott's Biblical Epic Unworthy of the Gods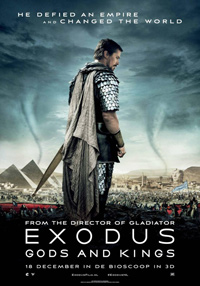 Arriving just in time for ritual slaughter is Ridley Scott's update on the Moses fable with Exodus: Gods and Kings, an epic reveling in its white-washed glamour casting, a detail which ends as a faux pas eclipsed by the rather banal treatment on hand. Those unfamiliar with this particular bit of mythology may be a bit confused with Scott's attempt at subtle rendering, eschewing grandiose melodrama for an angle that (at least tries) to favor a bit of soul searching for Moses, the key to his success hinging upon the identity crisis brought about by being raised as an elitist royal before he's promptly banished when the taint of Hebrew heritage is revealed. Too solemn in its mighty grandeur, Scott's treatment seems already mummified, an update that has even less cinematic magic than Cecil B. de Mille's maniacal vintage version.
While his adopted brother Ramses II (Joel Edgerton) is set to inherit the throne as the ailing King Seti (John Turturro) lies close to death, Moses (Christian Bale) is clearly the favored personality, a man with all the well-regarded aspects of a just leader. But it seems an old prophecy has come to fruition, as it's revealed that Moses is actually of Hebrew origins, a babe spirited away down the Nile in a casket and adopted by Bithia (Hiam Abbass) as her own. Upon discovering his roots, Ramses casts Moses out of the kingdom, thus beginning a long journey that will eventually see Moses lead his enslaved people to freedom after 400 years of being brutalized by the Egyptians.
In the long run, Scott's swords and sandals treatment will be more comparable to Michael Curtiz's forgotten epic The Egyptian rather than The Ten Commandments. The fury over racial discrepancies amongst the main cast, a topical and necessary qualm, may have paralyzed the theatrical version we're seeing, and one wonders if a more engaging cut will surface, not unlike the chopped studio version of Scott's 2005 Crusades epic, Kingdom of Heaven. Several of the high profile supporting cast members presumably had screen time cut, including Sigourney Weaver as the Egyptian Queen Tuya, who shows up to look snide and imperious in chic royal wardrobes, while John Turturro, as her husband, is dispatched quite early on.
As the dueling powers, Edgerton and Bale seem to be adhering to opposing acting styles, as Edgerton's Ramses chews through scenery and Bale's Moses becomes a wooden rod of inevitability. A slew of other notables, including racially ambiguous faces like Ben Kingsley, Hiam Abbass, Golshifteh Farahani, and Maria Valverde seem less distracting, though all underwhelm in comparison to the care with which the visuals were nursed. The only cast member that manages to engage with any kind of emotion is a smarmy and clearly bi-sexual Ben Mendelsohn as the viceroy Hegep, who flashes his mascara outlined big blue peepers with a devious vehemence that recalls a venomous Bette Davis.
But if we're going to get nitpicky about the disrespect engendered by continually casting white names in racially inappropriate roles, the public at large is going to have to realize that a toxic cycle is born when the masses don't see films that are headlined by foreign names or are subtitled. Remember Angelina Jolie in A Mighty Heart? What about Kate Winslet in The Reader? Do Americans care what the European Jews think about Hollywood smoothing everything over in Anglo Saxon fumes in Holocaust films? But, much like those who wish to align their belief system with the Bible, it's much easier to pick and choose the avenues of one's outrage without looking at the big picture as a whole, which becomes more about spending time demeaning the works of the others when it should be about actively and vocally supporting the changes one wants to see made. But really, this is all a mere digression in a work that baits with magisterial visuals, but is merely a hollow spectacle, not unlike Tarsem Singh's Immortals (2011).
The script, written by Steve Zaillan, Jeffrey Caine, Bill Collage, and Adam Cooper, neuters Bale by denying him any real emotionally potent sequences (his marriage to Valverde feels remarkably stale and stillborn), gunning for provocation by positioning him as a possible madman. There is a burning bush, but it's accompanied by a spritely boy child (Isaac Andrews) to stand in as a visual for the big guy in charge, given a chewy series of pithy dialogues filled with fifty cent words. If anything, this stylized choice is interesting because it's reminiscent of Scorsese's personification of Satan as a young girl in The Last Temptation of Christ—there's nothing in Exodus that innately strives to align the film with Christian ideology, so it's a pity that more material wasn't filtered through more academic reinterpretation.
As filmed by returning DoP Darius Wolski, the look of Exodus is by far the strongest aspect, though dominated by flashy special effects, including the infamous parting of the Red Sea. Depending on your opinion of Scott's notorious misfire, The Counselor, this latest effort will seem either an improvement or perhaps one more in a plateau of titles that would have benefitted from more time, effort, and proper care to finer details.
★★½/☆☆☆☆☆