Refurbished: Surnow's Debut a Casserole of Cliché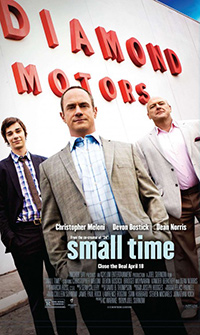 Seasoned television writer and producer Joel Surnow makes his directorial debut with Small Time, based on an autobiographical screenplay he wrote in the mid-1970s and has since retooled. While exuding a certain amount of polish that confirms an understanding of look and tone, the film feels resoundingly cliché and inescapably dull. Despite originating from the creator's own life experiences, the film feels overtly familiar, to such a degree that it fails to resonate visually, emotionally, or narratively. Humdrum in every sense of the word, Surnow's film may indeed be a passion project made for his own enjoyment; unfortunately, it fails to be of particular interest to anyone else.
Al Klein (Christopher Meloni) and his best bud Ash Martini (Dean Norris) own a used car lot and happen to be quite adept at what they do, often working in tandem to score sales. Martini lives up to his flashy name, a gregarious goof who revels in being a consummate bachelor. But Klein is still in love with his ex-wife Barbara (Bridget Moynahan), who left behind the trials and travails of the blue collar check-to-check reality for a more glamorous life with the wealthy Chick (Xander Berkeley). His feelings for Barbara seem to be stunting the growth of his current relationship with Linda (Garcelle Beauvais). However, when Klein's son Freddy (Devon Bostwick) graduates from high school and decides to skip college so he can sell cars and move in with his dad, this sparks a confrontation with Barbara. But it also affords some necessary bonding time for father and son, who haven't lived together since the divorce. At first thrilled, Klein soon begins to find that perhaps this wasn't the best decision for his son to make, and finds himself having to make a tough decision that will directly affect his new relationship with his son.
Sporting uniformly safe performances across the board from the capable cast, it's great to see Christopher Meloni in a lead role, albeit one that's not nearly as fun to watch as a similar supporting stint in Gregg Araki's White Bird in a Blizzard, due later this year. His Al Klein is a good hearted sort of fellow, warm and compassionate, eager to do the right thing for his son. A lack of any real dramatic tension, however, makes their developing relationship a bit of a snooze fest, with Al forcing himself to fire Freddy after realizing his son is developing into a sort of fleece hungry monster, whose favorite mantra becomes "People are shit" soon after learning the tricks of the trade. A host of recognizable faces in the supporting cast don't get much to do, from Breaking Bad's Dean Norris, to character actor Xander Berkeley, padding out their scenes with likeability though little memorability.
Bridget Moynahan gets saddled with the weak spot, playing a woman who castigates her ex as a low rent loser and fabulous salesman often within the same running conversation. Surnow, who begins the film with Freddy's narration announcing the tale to be about one memorable summer with his father, only manages to get at superficial clichés, ending with pat realizations such as Freddy stating in a latter that "This was the summer I figured out who I am." And so it follows that Devon Bostwick (from Atom Egoyan's Adoration) is stuck performing a character of convenience more than anything else. Surnow does diversify his outlying supporting performers, but the striking Beauvais plays a distractingly underutilized character, while Amaury Nolasco gets shamelessly stereotyped in a role that makes his over-the-top villain in this month's earlier released In the Blood look perfectly plum.
Interestingly, Small Time bears a striking narrative resemblance to Jon Favreau's latest film, Chef, which concerns a single father struggling to realize his passion and involve his young son in his life, all the while still harboring feelings of love for the ex-wife and mother. Similarly, Favreau sets his film over one memorable summer where he bonds with his son, the only other adult being the comic relief best bud. Apparently, it's a common template, albeit one that feels a bit drained of emotional investment in Small Time.
★½/☆☆☆☆☆