Lady Liars and Psycho-sexual Thrills; Zach Parker's Proxy is a Rocky Ride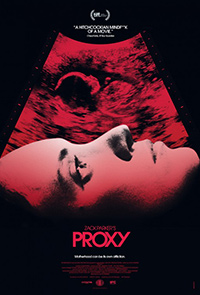 Countless blockbusters have used and abused the idea of doppelgängers and surrogates, but disturbing indie-thriller Proxy is uniquely made to amaze. Rhythmically structured around expectancy and negation, director Zack Parker proves to be well-versed in the cinematic language for predicated effects on a spectator. Beyond succeeding as an engaging twisty genre film, Parker activates mechanisms of manipulation, lulling us to complacency just before redirecting his narrative. Proxy is not stand-out cinema, but the unpredictable path makes this plucky undertaking worthwhile.
Leaving a strangely solemn sonogram appointment, Esther (Alexia Rasmussen) is dragged into an alley where her nearly nine-month-pregnant belly is clobbered with a brick until blood streams from between her legs. After the off-putting establishing sequence, which will undoubtedly empty a few seats at every screening, a detective visits her hospital bedside and asserts that such an abhorrent crime is rarely carried out by a stranger. Urging against an investigation, Esther says the culprit must be a drugged, misogynistic or homeless head-case. It is made easy to predict her involvement in the attack, but suspicions are somewhat silenced when the solitary woman attends group counseling. Here she is befriended by Melanie (Alexa Havins), a bubbly suburban blonde with perfectly glossed lips who may or may not be mourning her husband and three-year old son. After coffee dates and accidentally witnessing a bizarre performance from Melanie in a department store, Esther recognizes a relatable darkness in her lies.
Esther is removed from the narrative mid-film in a blood-bathed Kubrick-inspired spectacle that swells with orchestral strings and plays out in super slo-mo via the Phantom camera favored by Lars von Trier. Though unfortunately the only stretch of impressive camerawork, attention is shifted to a grieving man (Joe Swanberg) who compulsively fantasizes about torturing a home-intruder and a vengeful butch (Kristina Klebe) with a tattooed face and fire-engine red hair. While the psycho-sexual element ups the addicting dose of instability, characterizing an onscreen villain as a lesbian with a penchant for asphyxiated masturbation comes shamefully close to revisiting oppressive and tired stereotypes.
Obsession fueled happenings transpire in a wholesome Midwestern hamlet with a shadowy underside, conceptually comparable to David Lynch's Blue Velvet. But the setting serves merely as a springboard for the bold nosedive into difficult subject-matter. At the core of Proxy lies otherwise unmentionable truths – the generous attention towards expecting mothers is sometimes an incentive to conceive and worse yet, the victims of horrific tragedy may derive pleasure from sympathy.
Reviewed on September 13th at the 2013 Toronto International Film Festival – Vanguard Programme.
120 Mins