King Arthur: Legend of the Sword | Review
Le Morte d'Arthur: Ritchie Bastardizes another Icon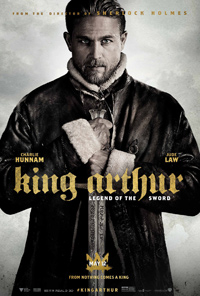 In the same punchy tradition in which he usurped Sir Arthur Conan Doyle for two studio Sherlock Holmes films, director Guy Ritchie takes sacrilegious aim at the legend of King Arthur, whose trajectory was historically shaped by Thomas Malory and T.H. White before cinematic legacies from Disney to John Boorman (and beyond) visualized the romantic figure's escapades. To be fair, this anachronistic rendition is a lot zippier than expected, and despite the intrusion of a waifish female wizard, is as equally homoerotic in its languishing reverence for handsome male subjects pummeling one another as any of Ritchie's works to date. Yet the legend of Arthur is somewhat swallowed by the monstrosity of Ritchie's spectacle, which is another endless montage of slickly edited action sequences extending a scenario about fate and fatherhood which is pared down to such baseness King Arthur: Legend of the Sword lands somewhere between Willow and Oedipus Rex.
After escaping an assassination attempt exacted upon his family by his uncle Vortigern (Jude Law), a young Arthur (Charlie Hunnam) grows into a strapping lad in a brothel, where he becomes a champion of chivalry. However, although he's assumed the throne after murdering his brother Uther (Eric Bana), Vortigern is terrified of the prophecy of his brother's child coming true, as the receding waters around the kingdom reveal a sword cast into stone, and the man who can pull it from its resting place will restore the throne to the rightful heir. Forced to flee the only home he has ever known, Arthur is assisted by a Madge (Àstrid Bergès-Frisbey), part of a magical clan of people nearly extinct thanks to Vortigern, and Bedivere (Djimon Hounsou), whose men are also intent on overthrowing the cruel king.
As Arthur, Hunnam seems to have approached the role as a beguiling dandy, a glorious specimen unable to express anything resembling self-doubt as he flounces fearlessly in the Abercrombie & Fitch line of medieval garb replete with product mussed hair. Bracingly self-assured, and outfitted with a legion of obedient supporters (the mage played by Bergès-Frisbey is resorted to controlling the bodies of various animals as she lurks behind pillars or trees, her eyes turning black), many played by character actors (Freddie Fox, Neil Maskell, even Annabelle Wallis) who are better than these meagerly purposed scraps.
Despite their likability, Hounsou and Bana are equally unnecessary considerations. As the auspiciously named Vortigern, Jude Law has more to play with as Arthur's power hungry uncle, who sells his soul to a slinky octopus witch (think Ursula's unfortunate, less attractive sister) and her two daughters for supernatural boosts to vanquish his foes for the throne. Law, who appeared alongside Robert Downey Jr. in Ritchie's Sherlock Holmes films, glowers magnificently, but otherwise, has little to do, while the women playing his wife and daughter are eerily interchangeable.
If there is a real star to this treatment penned by Ritchie, Joby Harold, and Lionel Wigram, it's a pulsing, strenuous score from Daniel Pemberton, which is about the only element outside of significant special effects to channel anything truly medieval. Those appreciative of Ritchie's hyperkinetic hodge-podge of homosocial heroes should find plenty to enjoy, but those expecting any real adherence to the source material he so freely reconfigures will most likely be underwhelmed by this wan eidolon.
★★½/☆☆☆☆☆