Cry in the Dark: Farrant's Debut an Unnerving Exploration of Carnal Knowledge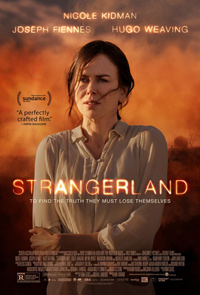 Recent critically acclaimed imports from Australia tend to glorify more aggressive genre trends, with names like David Michod, Justin Kurzel, and Jennifer Kent (not to mention, the resurgence of George Miller) tossed about in a heap of horror films, comedies, and social dramas. Kim Farrant's enigmatic directorial debut Strangerland doesn't seem destined to strike a resonant chord with movie going audiences. An esoteric narrative unfolds with a menace recalling a previous epoch of Australian cinema, where early titles from Peter Weir or Ted Kotcheff took decades to receive a rightful appreciation for narratives initially criticized for being too ambiguous or disheartening. Capturing the visual splendor of the arid Outback, this is a film of straggling, increasingly dehydrated menace.
The Parker family has recently relocated to an isolated Australian desert town, Nathgari. Mom Catherine (Nicole Kidman) struggles to remain positive with children Lily (Maddison Brown) and Tommy (Nicholas Hamilton). Their sullen father, Matthew (Joseph Fiennes), seems nonplussed to begin his new job as a pharmacist in the small town, and it's slowly revealed their move was the result of a significant scandal involving their teenage daughter. While Lily has a significant problem attracting the attention of lascivious men, Tommy is a somnambulist, and one night takes off into the desert followed by his sister. Their father sees them, but declines to pursue or mention to Catherine what happened. When the children don't show up the following day and a significant dust storm sweeps over Nathgari, a search party is sent out for the children. A local detective (Hugo Weaving) attempts to piece together the strange set of circumstances leading the Parkers to their small community.
Strangerland manages to maintain a certain level of unease and distress thanks to its refusal to clearly provide clear resolutions, even up to its final frames. In many ways, the film plays like a reverse Walkabout, told from the perspective of parents fearing the worst as their children mysteriously flee a disconsolate home environment.
A brunette Nicole Kidman is quite effective here as the grieving, agitated mother, and it's immediately apparent something isn't quite right with the Parker clan. As murky details unfold, mostly thanks to the unearthing of Lily's explicitly sexual diary, we begin to see patterns of dysfunction conjuring both specters of incestuous abuse, and more concretely, the idea Farrant seems to pose concerning a sort of genetic nymphomania, for lack of a better term. The elusive Joseph Fiennes exudes a sort of brooding menace, while Hugo Weaving remains the film's sole sympathetic observer, drawn into the Parker's dilemma partially because of his character's attraction to Kidman.
DoP P.J. Dillon's lush cinematography steals most of the attention, and we drift off quite often into impressive airborne sequences of red, mountainous terrain. With the hum and buzz of inexplicable forces conveying its haunting essence, the disappearance of a teenage girl into the rough wilderness aligns it with something like Picnic at Hanging Rock.
Though ultimately Strangerland isn't as inscrutable as Weir, Farrant's film strikes a unique tone, though one bound to disappoint those stuck on its initial promise as a thriller. But as a fascinating example of familial dysfunction amidst the backdrop of unpleasant rural peril, it bears the marks of an exciting new directorial voice.
★★★/☆☆☆☆☆