A Complicated Life: Hui's Sprawling Biopic as Malcontented as Its Subject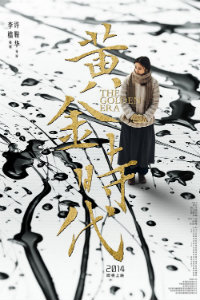 Hong Kong director Ann Hui's extensive filmography has been largely unavailable, though she's steadily been making films since 1979. Her 2011 film, A Simple Life, received raves and awards after premiering at the Venice Film Festival, and perhaps paved the way for this epically extensive biopic, The Golden Era, which explores the life of famed essayist and novelist Xiao Hong. Though the film has been tipped as Hong Kong's entry for this year's Foreign Language Oscar submission, Hui's zeal to capture the often degrading circumstances of Hong's short existence often overwhelms her own subject, so much so that Xiao Hong often feels like a supporting player to Hui's historical depths.
Born in 1911 to a family of landowners in Manchuria, Xiao Hong (Tang Wei) breaks the fourth wall to relate the basics of her life and death before we delve into her beginnings. We frolic through an abusive childhood, an elopement at age twenty, and the eventual start of her writing career after meeting a newspaper editor, Xiao Jun (Feng Shaofeng), with whom she would carry on a passionate affair of five years that would eventually sour. Throughout her relationship with him, and eventually another man, Duanmu Hongliang (Zhu Yawen), Xiao Hong is blown from region to region with the approach of the Japanese Imperial army and the beginnings of World War II.
With intricate deliberation, Hong's life is examined, displayed, and considered in The Golden Life, but she somehow never really registers as an active part of it. Lost between a sea of lengthy conversations usually concerning developing and changing politics during a very tumultuous, war obsessed period, it's akin to the over baked commiserations that deflect audience investment as displayed in something like Joseph L. Mankiewicz's Cleopatra (1964)—everybody's talking at you but you don't really feel like listening.
At an unprecedented three hour running time, Hui tries to be inventive by utilizing a talking head technique, whereby a cadre of writers, editors, poets and other creative types that knew Hong narrate her life for us by talking directly to the camera. A novel idea, but this only heightens the extreme artificiality of the material.
We get a clear sense of what Xiao Hong wrote, a legacy she came to be known for as a liberal, progressive mind addressing topics like poverty, cold, and hunger outside of the political machine, and even the life experiences that would rationalize her subject matter. But even with Wang Tei's understated, committed performance we never get a clear sense of her as a woman beyond the descriptions of other parties. She's described as emotionally irrational by other women, "As women often are."
It appears that Xiao Hong was privy to the same criticisms as female authors throughout all of time have been subjected, a critique explored more effectively of French author Violette Leduc in Martin Provost's 2013 film Violette. But Provost crafted an actual biopic allowing his subject to formulate onscreen, whereas Hui's Era captures a way of life and an attitude from a specific period more than it does the life or writings of a remarkable woman.
★★½/☆☆☆☆☆