Selah and The Spades | Review
School for Scoundrels: Poe Preens a Teen Queen with Curious, Benign Debut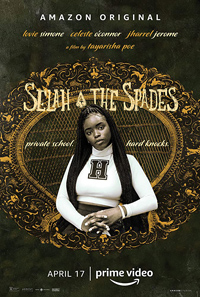 Director Tayarisha Poe fashions her debut Selah and The Spades, a YA drama about five subterranean adolescent factions who run the underbelly of a high-end boarding school, as a character study for her titular protagonist, a bratty Queen Bee who demands subservience to quench her need for control in an environment designed to withhold agency.
Poe's script belies a penchant for delicious and intelligent subtexts, but the parameters of her narrative eventually reveal significant limitations thanks to an inability for this scenario to correctly withhold the audience's suspension of disbelief concerning preppy schoolkids involved in nefarious machinations. Promising in ideas it suggests but ultimately can't effectively sell, it's a film which marks its director as one to watch given the opportunity to work in less contained, rigid environment defined by the limitations of privileged, adolescent angst.
Of the five student-led factions running behind-the-scenes operations at the Pennsylvanian boarding school Haldwell, it's Selah (Lovie Simone) and her Spades who are the most powerful, responsible for disseminating illicit drugs and alcohol to the student body. But it's Selah's senior year, and so when newcomer Paloma (Celeste O'Connor) joins the student body, she recruits the naive photographer to become her next in line—except Paloma quickly becomes a bit more ambitious than is comfortable for Selah.

Selah and The Spades plays like the more intelligent, grounded version of something like Alice Waddington's painfully ridiculous Paradise Hills (which premiered alongside Poe's debut at the 2019 Sundance Film Festival). But then, Selah recalls a variety of controlling teen harpies of the cinema (most of them white), from Heathers to Jawbreaker to Cruel Intentions.
If Poe brings to mind either Lee's School Daze or Simien's Dear White People it's thanks to the commanding presence of Lovie Simone as Selah, even though her characterization and performance aren't too far off from her presence in "Greenleaf." But Poe's more of an anomaly than any of these references, and there's a simmering menace which clouds over her film, and we're left waiting for the other shoe to drop, like a Picnic at Hanging Rock, for instance. However, we're so focused on Selah that even her counterpart, the ingenue Paloma, pales by comparison.
If Jesse Williams, a likeable but wasted performance, is underutilized, at least Gina Torres as Selah's mother is allowed to provide some metaphorical food for thought relating a fable about a scorpion and a frog (Selah and Paloma)—in turn, this feeds into the low-grade messages about limitations of control, which breeds an almost fascist regime in the teen underbelly. Other cast members are merely pawns, including O'Connor and Jharrel Jerome (Moonlight, 2016) as Selah's right-hand man (suffering the film's worst dialogue slights is Ana Mulvoy Ten as Bobby, leader of a character-less faction).
Opening with a quote from L. Frank Baum's 1907 novel Ozma of Oz, Poe's script reflects the overzealousness of limited leaders. "You can choose what kind of cog you want to be," she explains to Paloma, a young woman much more adept at going with the flow. Questioned about her shuffle iPod and the lack of control this device permits in selecting the next song, Paloma responds, "the right song always plays." If only the narrative meat of Selah and the Spades could live up to the excellent skeleton Poe has constructed. Ultimately, her debut suffers from the same setbacks as Rian Johnson's celebrated 2005 film Brick, which features Joseph Gordon Levitt sleuthing though a high-school version of Dashiell Hammett—the stakes are never high enough, the finale ambiguous but underwhelming.
★★/☆☆☆☆☆