Words of War: Davies Recuperates Another Poet in Impressionistic Biopic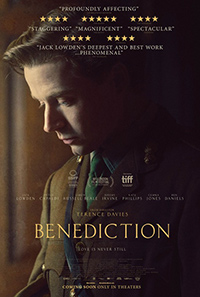 Following the critical success of his masterful portrait of Emily Dickinson in A Quiet Passion (2016), Terence Davies takes aim at another classic poet with his Siegfried Sassoon biopic, Benediction. In many ways, Sassoon, unlike Dickinson, was an artist created because of trauma, and his notable output contends specifically with a certain time and place. Inevitably, Davies' portrait of the poet eventually takes the same shape, reflecting experiences and sentiments specific to a subset of worlds Sassoon straddles—-a veteran defined as conscientious objector and a closeted homosexual overshadowed by the classist circles which provided him an unprecedented privilege. As such, Davies recuperates a period as much as he does an artist in this impression of life amongst the noted 'bright young things' of 1920s London.
Sent to a Scottish psychiatric facility in 1917 due to his anti-war stance, Siegfried Sassoon (Jack Lowden) quickly became a prominent voice of his generation through his extensive output of poetry. His opposition cemented by the death of his younger brother in the line of duty, his actions while serving were also deemed exceptional and brave, earning him an unprecedented reputation during and after the war. But his closeted sexuality stoked a sense of ennui throughout his young adulthood. Romantic dalliances with narcissistic lothario Ivor Novello (Jeremy Irvine) and socialite Stephen Tennant (Calum Lynch), amongst several others, would end bitterly, driving him into the arms of Hester Gatty (Kate Phillips) for a semblance of stability. But Sassoon's discontent would define him until the bitter end, rearing its head again (now Peter Capaldi) when a crisis of faith turns him to Catholicism.
Shot by Nicola Daley, there's a sumptuousness in Benediction which eluded the more contained A Quiet Passion, where Davies made significant use of aging transitions. At the same time, there's a potency lost in this somewhat cynical portrait of fancy gentlemen exchanging bitchy critiques as they run through each other like romantic wildfire, and it's these relationships which override Sassoon's war trauma, his significant output of poetry, and his own marriage, which yielded him a son he seemed to loathe. Searching for meaning and redemption, the vibrant Jack Lowden turns into Peter Capaldi's ornery husk of a man, bitter about his lack of recognition and making drastic moves (for him, at least), converting to Catholicism.
At it's best, Benediction makes wonderful use out of mixing Sassoon's poignant verses in the background, showcasing how a lack of social support created cyclical trauma amongst gay men, many who were pressured into marrying women for survival. Many of these women pale in comparison to their male counterparts in Davies' portrait, which is usually not the case in biopics about gay men who were married to or affiliated with women. Geraldine James is briefly effective as an all-knowing mother, and Gemma Jones is wasted as the older version of Hester, but it's a different approach considering a film about a romantically troubled gay man taking the trouble to focus on his deficient objects of affection. While Jeremy Irvine (of War Horse and the whitewashed version of Stonewall) tends to distract, Ben Daniels as the kindly Dr. Rivers and Calam Lynch as a young Stephen Tennant are interesting energies. If Lowden feels like a lustrous focal point, it's thanks in part to Davies' exceptional dialogue, for between Sassoon's prose and rankling jabs of irate lovers it's a poetic observation of melancholic memories and ruined opportunities.
★★★/☆☆☆☆☆