Some Gentle People There: Johnson's Sophomore Effort Recalls Place of Fear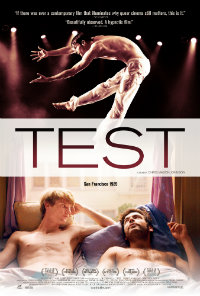 Here's an arresting point of intrigue into the miasma of historical reexaminations of the AIDS onslaught—the fear and trepidation associated with the initial development of the test used to detect infection. Would the government use it to quarantine, as a way to cordon off the diseased before they could spread the virus among others? Would it be information employers could get a hold of? The endless anxieties that resulted from something as simple as confirmation were boundless, and so, Chris Mason Johnson's sophomore film, Test, manages to gain a unique perspective in this examination of knowing one's status and the implementation of safe sex. Cineastes may compare its anxious final act to Agnes Varda's New Wave classic, Cleo From 5 to 7, though Johnson's film doesn't quite grapple with its protagonist's situation as compellingly as that reference merits. Exploring age old issues in the insistently self-loathing environment of modern gay life that aren't just unique to the harsh histories of the mid 1980s, Johnson's film may not be as powerful as it has the potential to be, especially considering this receives a theatrical release so soon after Ryan Murphy's The Normal Heart debuts on HBO, but one can't deny it a certain respect for its examination of a less sensational aspect of a horrendous plague.
It is 1985 San Francisco, and Frankie (Scott Marlowe) is an understudy in a modern dance company. As the world around them is still on high, paranoid alert on how exactly the transmission of AIDS occurs, even those yet uninfected are treated with great suspicion, including Todd (Matthew Risch), a handsome playboy in the dance troupe that seems to be the reluctant object of Frankie's affection. While every blemish tends to be a potential scare as a developing Sarcoma lesion, it's announced that a recent test has been developed that can determine one's status, though this seems to cause more trepidation than relief within the community. Meanwhile, condoms finally begin seeping into culture as an archaic necessity, viewed as a straightjacketing into a monogamous mind frame. While Todd and Frankie finally begin a casual flirtation once Frankie graduates from understudy status, a health scare from recent sex partner, Kris (Kristoffer Cusick) demands that Frankie determine his own status, and suffer through the interminable two week waiting period that follows.
Oh, Rock Hudson. He seems the shorthand prerequisite of every 80s set AIDS narrative, the harbinger of things to come (at least for those outside of the gay community at the time) in a multitude of examples, especially in high profile fodder like The Dallas Buyers Club (2013). Snippets of the great soundtrack assembled by Johnson feels more inspired than much of Frankie's narrative, including timeless tracks from Bronski Beat and the Cocteau Twins. The inclusion of Klaus Nomi, one of several artists Frankie listens to when disappearing into his own head, is a melancholy touch, considering that by 1985 the great artist had already been dead nearly two years, passing away alone in a hospital, abandoned by most of his friends and loved ones.
While Marlowe proves to be a mostly watchable screen presence, with his more vibrant scenes happening to be those where he's participating in the dance troupe, his story feels a bit underwhelming. By the time we get to the emotional anxiety of waiting for his test results, it feels a bit too little too late. There's an affable chemistry between him and co-star Risch, but the supporting player proves to be the more engaging screen presence. Filmed uniformly and rather blandly, perhaps due to the ramifications of fitting its period, Test isn't nearly as powerful as one would perhaps hope it to be.
★★½/☆☆☆☆☆