Sing 'em With Me: Ambitious Horror Anthology Overreaches Itself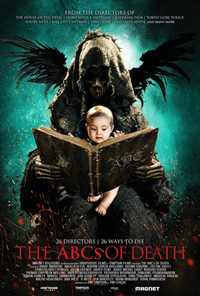 Nearly every anthology film ever made suffers from the same predicament in that there are usually fewer standout segments than there are examples of bland turpitude. Horror seems an especially lucrative arena for the anthology film, but there are very few entirely successful examples even here (though George A. Romero's 1982 Creepshow certainly comes to mind as a contender). Unfortunately, the new "high concept" The ABCs of Death which has 26 segments, one for each letter of the alphabet and each from a different director, is a mutated, overblown anthology treatment. With each segment running at roughly 5 minutes in length, there's an inordinate amount of forgettable entries, but that's not to say it's not worth a look.
Featuring a hodge podge of some of the best and the brightest genre filmmakers from around the world, each segment is titled with children's lettered building blocks in a pool of blood after the segment ends. And then we're off with A is for Apocalypse from Nacho Vigalando, which happens to be one of the more stand out segments. With nothing to tie them together and no overarching theme, this is a disparate, skeleton crew with barely a handful of excellent mentions, only one or two absolute misses, and mostly, a lot of stuff you're going to forget about. The two very best sequences are D is for Dogfight from Marciel Sarmiento (director of 2008's Deadgirl) and T is for Toilet from Lee Hardcastle, whose segment won a contest to be in the film. The former is about the owner of a missing dog, and the two unite in prison on opposite ends of a dog fight, but surprising things happen when Buddy finally recognizes his owner. And as for the letter T, a claymation segment about a young boy whose worst fears are realized while in the midst of potty training, one can only sense that it's too bad there wasn't a way to have made some of the other contributors compete for their letters.
Other pretty damn good sequences are O is for Orgasm from the extremely talented French duo Helene Cattet and Bruno Forzani (having first helmed an excellent 2009 film, Amer), Ben Wheatley's U is for Unearthed, and Adam Wingard's Q is for Quack. Teetering on the edge of bad taste shock value and perhaps a titch of lazy inspiration was Ti West's M is for Miscarriage, but in sea of forgettable letters, his certainly stands out. Jason Eisener (Y is for Youngbuck) and Xavier Gens (X is for XXL) also get credit for some noteworthy entries here. Besides Cattet, the only other female in the lineup is Angela Bettis, perhaps better known as an actress and Lucky McKee's muse, who also fronts a decent effort. On the disappointing side we have Jorge Michel Grau (We Are What We Are, 2010) who doesn't put up the worst effort, but for a filmmaker with such a good first feature, expectations were quite high.
As each sections dissolves into a different aesthetic, the tone and story change gets a bit jarring to settle into towards the latter half of the alphabet, with less inspired entries certainly feeling interminably long for only being five minutes or so. While there's certainly material worthy of merit, The ABCs of Death instead feels like a grand experiment that could have been orchestrated better with more time and money. Interested filmmakers were assigned letters at random and given $5,000 to make their short, no limitations. It's just too bad that some couldn't have been excised. That said, the few standout shorts are definitely worth seeing, and let's hope that Sarmiento, Hardcastle, Cattet & Forzani continue to exercise such originality in future feature length endeavors. But to borrow the immortal words of songstress extraordinaire Peaches in relation to this anthology, producers Ant Timpson and Tim League end up with a film that's only double A, thinking triple X.
Reviewed on September 14 at the 2012 Toronto International Film Festival – CONTEMPORARY WORLD CINEMA Programme.
123 Min