Reviews
The Art of the Steal | Review
Art Bitch: Sobol Turns to the Dependable Heist Drama with Mixed Results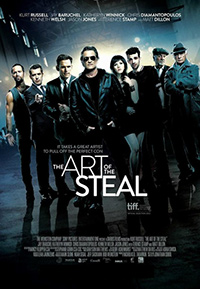 Flying in on the feathery laurels of Kurt Russell (once again donning a skilled leadfoot persona, albeit one who is much less sinister than his Stuntman Mike), director Jonathan Sobol turns to the sinewy double crossings of the old fashioned heist for his sophomore effort, The Art of the Steal. While it's a stretch to say that Sobol, who also penned the screenplay, brings anything fresh to the table, he fills his 90 minutes with enough pep to keep us interested, which is nothing to balk at considering his plot twists aren't divided by explosive action sequences. Several cast members lends the material a superficial draw, though the film doesn't tend to champion or showcase any of them (and as for an engaging female presence, forget it—ladies are on short order here, with a lone figure thrown in for sheer plot contrivance).
The film begins as motorcycle daredevil and art-thief Crunch Calhoun (Kurt Russell) is about to serve a prison sentence in Poland. It turns out that three days earlier, a heist which he was involved in saw his brother Nicky (Matt Dillon) get nabbed by the coppers. In order to avoid serving a lengthy prison sentence due to his priors, Nicky narcs on brother Crunch, who receives a lesser charge. Skip ahead seven years later and washed up Crunch is eking out an existence as a third rate stunt driver, paid paltry sums to take dangerous falls. He's acquired a young protégé, Francie (Jay Baruchel), and a young vixen of a love interest, Lola (Katheryn Winnick). When his motorcycle is stolen, Crunch is forced into seeking out his estranged brother for help. Luckily, there's a grand scam on the horizon involving the original copy of "The Testament According to James," an extremely valuable item that is currently locked in a customs station in Niagara Falls. This calls for the help of their old bud Paddy (Kenneth Walsh) and Guy (Chris Diamantopoulos), and, hey-ho, the gang's all here. So, they begin to hatch their plot to acquire the valuable manuscript. But not so fast. An overzealous Interpol agent (Jason Jones) is suspicious of the sudden assembly of ye old Calhoun gang, and snatches Samuel Winter (Terence Stamp), a convicted con-artist trying to receive an early release for good behavior, into tracking their whereabouts (which also involves a simultaneous issue about a recently stolen painting).
Filmed in drained and washed out grays, and at times employing split screen antics, Adam Swica's uncharismatic cinematography lends the film a down and out ambience befitting a hardnosed thriller. But Sobol's tone often feels borderline hokey, chunks of dialogue aiming for cutesy laughs with Russell's unfortunately named Crunch Calhoun playing dumb while Baruchel does his usual shtick of sending up his nerdy and nonthreatening persona. Dillon seems appropriately cast as a smarmy backstabber, but it's nothing we haven't seen him do before. But Sobol gets a grand scene-stealer out of the delightful Terence Stamp, expertly tossing about withering criticisms concerning the rather bland Interpol agent played by Jones. He brings the kind of snappy verve to his handful of scenes you'd wish Sobol could have conjured for the rest of the film. (How unfortunate that Stamp is relegated to an unthankful subplot that seems rather flimsy upon further inspection).
By the time we get to the final act, we have to sludge through a montage of flashbacks just to ensure everyone's on the same page with what exactly has been happening, which feels a bit jarring and lazy, though there does happen to be a worthwhile comeuppance of the sort you'd expect. It's just that nothing feels very definite about The Art of the Steal, as if, by trying to go for something new Sobol ended up watering everything down (another famed Canadian, Stephen McHattie turns up in a cameo as Dirty Ernie, which also seems a waste). As the Calhoun crew ruminates on its "heist for the ages," one can't quite argue the same distinction for The Art of the Steal, which certainly has entertaining moments but does not meet demanding expectations.
★★ / ☆☆☆☆☆