Scatological Prowess: Bateman's Directorial Debut an Amusing Vulgarity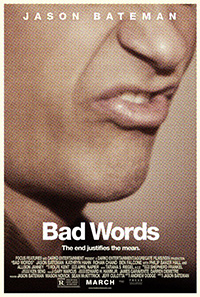 Fans of fare like Bad Santa and Bad Teacher should rejoice in Bad Words, foul-mouthed fodder involving funny but typically inappropriate exchanges with schoolchildren, which also serves as actor Jason Bateman's directorial debut. Those with a puritanical mindset will most likely find the film off-putting, though most of the film's hysterical moments originate from its more audacious and unhinged twitches. While closer examination of its narrative only results in unraveling it to be a thinly veiled showcase for the type of witheringly putrid character Bateman is so good at playing, that's not to say there isn't a lot of fun to be had.
Guy Trilby (Bateman), a persnickety and disgruntled 40 year old, expert speller and embittered citizen, has found a loophole in the rules of the Golden Quill national spelling bee and thus decides to hijack the competition for personal and very mysterious reasons. Enraging parents, contest officials, and ambitious students, Thrilby has found press support from reporter Jenny Widgeon (Kathryn Hahn), who escorts Thrilby to his competitions but can't seem to get any explanations out of him. As they cross professional boundaries, things get heated when Guy butts heads with the bee's administrator, Dr. Deagan (Allison Janney) and the venerable chief, Dr. Bowman (Philip Baker Hall). But just as Guy thinks he has everyone where he wants them, he finds himself building a reluctant friendship with a 10 year old, vivacious competitor, Chaitanya Chopra (Rohan Chand), who is completely unfazed by Guy's prickly demeanor. Their relationship seems to affect their motivations concerning the outcome of the bee, a national event that is also being broadcast on national television for the very first time.
Bateman's strongest asset here happens to be himself, mostly unfettered by studio reigns to spread his wings as a real foul-mouthed Scrooge, mucking up an institution that's about as dry and unassuming as the Boy Scouts or Knowledge Bowl. But beyond netting some successful laughs, there's a lot of charm underneath the scrappy surface, mostly due to Bateman's interactions with Rohan Chand.
We only get passing details about Bateman's Guy Trilby, as his motivations have to remain secret until the third act reveal, but even with flimsy characterization, there manages to be a believable enough bond that it generally avoids chintzy schmaltz. Fine comic turns from supporting cast members, particularly Allison Janney and Kathryn Hahn (not to mention two bright little scenes with the superb Rachael Harris) round out the belly laughs for a film that's less vulgar than it could be and more amiable than you might predict.
First time screenwriter Andrew Dodge strikes a nice balance, while the film often looks a bit standard, outside of a Beastie Boys infused rampage involving underage drinking, bare chested prostitutes and lobsters. Random bits of omniscient narration from Bateman, which also open the film, seem used for convenience rather than streamlining the action, but there's a casual energy to Bad Words that makes it one of the few comedies you actually wouldn't mind being a little bit longer.
★★★ /☆☆☆☆☆