Like a Record Round: Ponsoldt Spins the Wheels with Silly Tech Thriller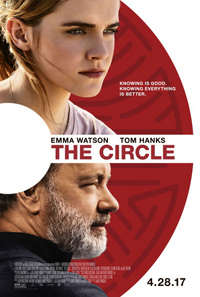 James Ponsoldt launches uneasily into mainstream studio territory with the internet thriller The Circle, a rather awkward slog from the indie auteur revered for The Spectacular Now (2013) and The End of the Tour (2015). An eerie contemplation on the dangerous direction technology and social media has already brought us, Ponsoldt's film already feels a bit behind the curve (in a decade, it may be akin to something like the 1995 Sandra Bullock thriller The Net) in its deliberations on the decreased gap between notions of what's public and private in the digital age of transparency.
Emma Watson stars as another easily manipulated heroine ("there's not a cynical bone in your body," she's told by an admirer), using her mottled purity to gain, without much effort, the upper hand in an increasingly illogical dystopic vision meant as cutting commentary on our contemporary dependence on interconnectedness. Some interesting ideas abound in Ponsoldt's adaptation of the Dave Eggers novel, but this cinematic conceptualization seems more along the lines of the YA prequel to popular post-apocalyptic fiction (i.e., The Giver).
Mae Holland (Watson) is stuck in a dead-end temp job waiting for the next best thing. Having moved beyond her childhood days, including a connection with the grounded Mercer (Ellar Coltrane), she watches helplessly as her mother (Glenne Headley) must singlehandedly care for her ailing father (Bill Paxton), who suffers from MS. When she receives a phone call from her best friend Annie (Karen Gillan) confirming she netted Mae an interview for an entry-level position with The Circle, a highly desirable tech company which has slowly begun to monopolize the market, it seems brighter days are on the horizon. Initially overjoyed to be offered a position as a customer experience manager, which affords her the ability to provide first rate health care insurance for her parents, Mae soon becomes consumed by the 24/7 immersion, which includes living within the confines of the The Circle's sprawling campus. The Circle, run by affable co-founder Eamon Bailey (Tom Hanks) champions the notion of sharing everything, as well as complete transparency regarding every interaction. But Mae soon finds out, with considerable sacrifice, the dangers of a system derailing every semblance of privacy.
Kudos to Ponsoldt on assembling a stellar supporting cast, particularly the winning combination of Glenne Headley and Bill Paxton (in a final on-screen performance) as Watson's gracious parents. As the Steve Jobs-like co-founder of the tech magnate, Hanks (starring in his second Eggers adaptation following Tom Tykwer's A Hologram for the King, 2016) is cast against type, manipulating his harmless everyman persona to hide the white collar elitist underneath it. However, he isn't given much to work with, often outdone by Patton Oswalt as a bitchy COO who gleefully clobbers his adversaries.
If Watson is stuck playing the internet age's equivalent of Jane Eyre, she's not alone in her blandness, oddly positioned between the masculine affections of Ellar Coltrane as her blue collar childhood pal and app wunderkind John Boyega, constantly lurking on the periphery to be called on as needed. Both function as necessary catalysts for the all-too-convenient finale, which doesn't so much lead to a dramatic climax instead of a predictable dribble. What's more apt is the rendering of a modern reality where we're all plugged in to a constant influx of unnecessary information and superficial social media interaction to the point where the notion of individuality reaches the equivalent of digital extinction.
A lot of time and effort was put into conjuring the wide-ranging insanity of comments on Watson's live-feed, which perfectly mimics our current way of interacting with our environments by engaging in rapid fire, instantly forgettable one-sided correspondence (and, in essence, gets its point across a lot more effectively than the snide black comedy Ingrid Goes West, 2017).
However, as a pulse-pounding thriller, The Circle never elevates the heartbeat, partially because it also is centered on a heroine who is, if anything, so meticulously passive, she's like the damsels in distress from the B-picture genre efforts of yore—a woman who finally does act, but is apparently color blind to obvious red flags and unaware of preemptive measures. As a relevant lesson in how complete transparency and the incessant oversharing fostered by social media creates a gateway for totalitarian dictates, The Circle is eerily pertinent. If only it could have been a smarter, more vehement piece of social commentary, than perhaps it could have also seemed prescient.
★★/☆☆☆☆☆