Reviews
Everybody's Life | 2017 COLCOA French Film Festival Review
Au Beaune Pain: Lelouch Continues with Frivolous Comedy Spackle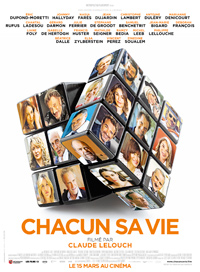 Somewhere along the way Palme d'Or and Oscar winning auteur Claude Lelouch (1966's A Man and a Woman) morphed into the Garry Marshall of French film, churning out vapid comedy vehicles sporting a glitzy array of notable Gallic stars. Whenever the slide began, his tendencies to overstuff his narratives with zany layers of (often inconsequential) tangential sub-plotting began years ago, look no further than his 1986 sequel to his most famous film, A Man and a Woman: 20 Years Later for longstanding evidence of the change. His later period reflects the stamp of various muses, such as actress Audrey Dana, and now, frequent co-author Valerie Perrin. With 2013's We Love You, You Bastard and 2015's Un + Une, Lelouch has become completely divorced from his illustrious past filmography, a chasm only widened by his latest venture, Everybody's Life, once more featuring Johnny Hallyday and Jean Dujardin amongst a cavalcade of a cast, all whirling through this odd kitchen sink array of miscellaneous characters all inclined to converse about their Zodiac signs as they fall in and out of romantic love or obsessive yearning during a a year's time in Beaune, France.
As an annual jazz festival gets underway, a slew of characters intersect and coverage in the provincial town of Beaune in the Burgundy region. A judge (Eric Dupond-Moretti) must contend with the news of Clementine's (Beatrice Dalle) retirement, a local prostitute whose company has brought him great joy since the death of his wife. Meanwhile, his colleague Nathalie (Julie Ferrier) falls out of a window after finding her husband (Gerard Darmon) with another man, sharing an ambulance with a hypochondriac singer (Mathilde Seigner) who believes she is having a heart attack following a performance at the festival. At the same time, a tawdry court case has drawn together another subsection of the community, including the troubled alcoholic Antoine (Christophe Lambert), currently facing the dissolution of his own marriage with his disconsolate wife (Marianne Denicourt) betwixt legal troubles. And as famed singer Johnny Hallyday faces a problem with a slippery doppelganger (who has a tryst with an unhappily married Comtesse played by Elsa Zylberstein, married to Vincent Perez), which causes some confusion with local cop Jean (Jean Dujardin), the marriage between former beauty queen (Nadia Fares) and Stephane (Stephane De Groodt) is also on the rocks. Meanwhile, the local hospital has decided to engage a new policy wherein patients must be put at ease through sexually provocative jokes, which brings a chummy nurse (Deborah Francois) into contact with several patients.
If Max Ophuls had wanted to make La Ronde (1950) into a relationship farce (to be fair, Roger Vadim kind of did this with his remake) set to light jazz, it might look something like Everybody's Life. However, Lelouch feels as if he filmed his illustrious cast in a number of amusing scenarios and pasted the end results together as he saw fit, clipping it into a semblance of repeated scenarios with revolving characters, all who end up professing their love, being destroyed by it, or simply moving on to another chapter. However, the film is neither subtle nor diverse in its repetitive techniques, and for as entertaining as it is to see Hallyday and Dujardin horse around as they take selfies, the frivolousness quickly gets wearying, particularly by its grand framed finale, where we return to the court room a year later after the film's beginning, with Lelouch stuffing all his characters, whether it makes sense or not, into the same room.
Gregoire Lacroix assists Perrin, Pierre Uytterhoeven (who co-wrote A Man and a Woman) and Lelouch in this adaptation from his own prose, but Everybody's Life drifts aimlessly, as if besotted by the presence of its own unlucky in love characters all experiencing the same approximation of discontent. Most of these formulas are tedious, if not forgettable, with a glaring bright spot from Beatrice Dalle as a prostitute who wants nothing more to do with sex or men and relish the retirement she deserves. If somewhat less ungainly than rom-com Un+Une and the loopy We Love You, You Bastard, this isn't a return to form or an ascension to new heights for Lelouch, try as it might to 'experiment' with traditional narrative form.
Reviewed on April 24th at the 2017 COLCOA French Film Festival – Opening Night Film. 113 Mins.
★★½/☆☆☆☆☆