Shoe Be Doo: McCarthy's Magical Realism Has No Sole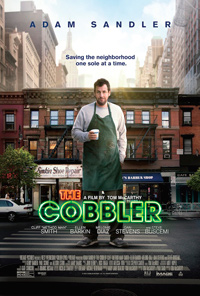 Actor Thomas McCarthy has developed a solid reputation as an indie film director thanks to his first two films The Station Agent (2003) and The Visitor (2007). While his third outing, 2011's Win Win, showcased a tendency for schmaltzy cliché, it's a far cry from his most recent offering, The Cobbler. Headlining Adam Sandler, many expected this to be one of Sandler's infrequent attempts at dramatic prowess, somewhere along the lines of his surprise turns in Punch Drunk Love, or even Spanglish…or even Men, Women & Children. Instead, McCarthy doggedly pursues a broad comedic tone, something that recalls old Jerry Lewis vehicles, except with a lethargic, bored star. Resolving a series of lazy dramatic conflicts, everyone involved coasts through this torporific exercise with grim determination.
A magical sewing machine that was inherited by one of his ancestors in the Lower East Side of New York City in 1903, following a good deed, grants Max Simkin (Adam Sandler) the ability to become other people when he dons shoes that have been touched up by the machine. He discovers this after trying on a pair of shoes for the slightly ominous Ludlow (Method Man). Soon, he's off on a series of escapades around the city, masquerading as a variety of folks from all different walks of life. Eventually, Max, who cares for his ailing mother (Lynn Cohen), dons his father's (Dustin Hoffman) shoes, a man that disappeared years prior, leaving his family in the lurch. At the same time, a social worker (Melonie Diaz) motivates Max to get involved with her movement to save the Lower East Side from being taken over by large corporate entities. It just so happens that Ludlow happens to be in cahoots with a rich, selfish woman (Ellen Barkin) trying to chase an old a man (Fritz Weaver) out of a building so they can buy the block and demolish everything on it.
The Cobbler wastes its first forty minutes by reveling in its novel approach by sputtering Sandler into a series of predicaments as he pretends to be other people. With the only stipulation being that the shoes must be a size 10.5 (isn't that a bit big for Dustin Hoffman, by the way?), we're simply treated to a series of vignettes, navigating through general stereotypes.
The poshly dressed Method Man intimidates white people into giving up their shoes in broad daylight merely by being gruff, while a drag queen (improbably played by Yul Vazquez) is used for exploitative effect. A distracting looking Ellen Barkin shoulders most of the stereotypes afforded greedy, capitalist villains, and a series of other supporting players get frittered away in wayward tangents, such as Dan Stevens (playing a closeted gay man), Melonie Diaz, and Steve Buscemi (used for a third act twist that's not only unsensational, but majestically boring). There's a type of necessary, zany energy needed to carry off a premise so intentionally silly, but McCarthy's strengths do not appear to reside in screwball comedy.
½/☆☆☆☆☆