Reviews
The Danish Girl | 2015 TIFF Review
Danish Modern: Hooper's Painterly Costume Drama Mounted on a Glossy Stage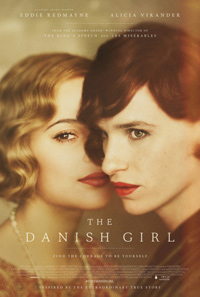 Much as last year's The Imitation Game served to honor the memory and legacy of Alan Turing, a man whose reputation was tarnished by the homophobic stigma of the times in which he lived, Tom Hooper's The Danish Girl is a glossy delivery of 1920's Danish painter Lili Elbe, one of the first people to undergo sex reassignment surgery. Both these films hold a certain degree of importance and cultural relevancy due to the validating platforms and pedigree of the filmmakers behind them, both in their ability to reach mass audiences and garner significant accolades, but also in how these films acknowledge openly the dire struggles of their subjects to flourish in a world rigidly set against their sexuality.
Unfortunately, much like the Turing biopic, a certain lack of interiority is lacking in this examination of Elbe, a film focusing more on the emotional journey of wife Gerda as she staunchly stays at her partner's side and also downplaying more sensational details from Elbe's sex reassignment. It's dramatic depths trembling and wavering solely on Elbe's sex reassignment tends to straightjacket the project into a topical message movie, a historical recuperation poised to crest the significant wave of a changing social climate fascinated with transgendered identities thanks to the likes of celebrity figures like Laverne Cox and Caitlyn Jenner. Eventually, filmmakers will more comfortably and casually present us with a wider range of transgendered characters (this year's Tangerine belongs to a slowly growing movement in that direction), but until then, this beautifully photographed film from Oscar winner Tom Hooper maintains the status quo of tentative progression.
In 1920s Copenhagen, celebrated painter Einar Wegener (Eddie Redmayne) is married to Gerda (Alicia Vikander), a woman struggling to break out as an artist from underneath her husband's shadow. Happily married for six years, they seem to know everything about one another, until one day, Gerda asks Einar to pose in women's clothing as a stand-in for a model who failed to show. The experience rattles Einar, and soon dressing in his wife's clothes becomes a minor obsession. Another opportunity presents itself and the couple dress Einar up in drag as Lili and attend a private event together. However, another handsome young man (Ben Whishaw) is drawn to Lili and kisses her, something that bothers Gerda considerably. However, Einar is unable to put Lili's persona away, eventually leading them to reach out for help in the medical community, resulting in upsetting experiences. Eventually, they find a physician who recommends sex reassignment surgery, a dangerous and experimental procedure at the time.
The Danish Girl has been floating around in development for a number of years now, initially announced as a project for Nicole Kidman, later replaced by names of other willowy blondes, like Gwyneth Paltrow. At one point, Swedish auteur Tomas Alfredson (Let the Right One In, 2008) was attached, and then even Lasse Hallstrom. Somewhere in between those two contenders lands Hooper's capable, if rigidly formulaic product.
Following Eddie Redmayne's Oscar win for portraying Stephen Hawking, his performance as Einar/Lili is fascinating and astute, the actor nailing certain mannerisms and behaviors with comfortable aplomb—we've come a long way since The Christine Jorgensen Story (1970). It helps considerably that Redmayne is quite beautiful as Lili, rather resembling Bryce Dallas Howard. But the narrative favors the experiences of Alicia Vikander's as Gerda, who comes across as a more fully rounded emotional character.
Ironically, their relationship shares a few similarities with that of Hawking and wife Jane in The Theory of Relativity, a courageous and supportive wife forced to reach out for sexual gratification in the arms of another man (here a rather stiff Matthias Schoenaerts). But together, Vikander and Redmayne are often quite moving, and there's a genuine tone of affection carried through into sequences when Redmayne becomes Lili.
Elbe's journey is indeed a fascinating one, and Lucinda Coxon's sanitized screenplay runs a jagged course through the homophobic medical profession before we get to the affable fellow played by Sebastian Koch. But the film neglects to get into more sensational details, including a higher tally of surgical procedures which ended when Elbe underwent an experimental transplant of the uterus—perhaps this was something to garish and reprehensible for the heteronormative to comprehend, much like the popular trend in shying away from showing gay characters in real moments of intimacy from straight filmmakers (Peter Greenaway being a rare exception, to name an example from 2015).
Other cast members like Ben Whishaw and Amber Heard provide meager support, nicely serving their limited purposes. Alexandre Desplat supplies a customarily poignant score, though one that tends to replace depths of emotion not always evident, particularly in a climax that should be more heart rending than it's presented. Lastly, Hooper disgraces his sense of heightened drama with a rancid cherry of schmaltzy affect in the final sequence.
Certainly worth seeing, thanks to the two leads and some beautiful Danish landscapes from Hooper's regular DoP Danny Cohen, The Danish Girl is poised to rake in major awards attention for its topical subject matter. But for those who've lived their whole lives under the umbrella of the acronym LGBT, The Danish Girl plays like another well-meaning but underwhelming instance of deference.
Reviewed on September 12 at the 2015 Toronto International Film Festival – Special Presentations Program. 120 Mins.
★★½/☆☆☆☆☆