Reviews
3000 Nights | 2015 TIFF Review
Samaritan Subterfuge: Masri's Aggrandized Portrait of Political Metaphor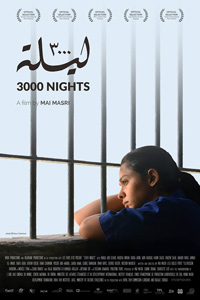 Portraits of women-in-prison have a long winding history in the annals of grindhouse and various exploitation cinema, and it's a subgenre seemingly geared to easily capture the public's attention. From critically admired studio efforts-turned camp classics like Caged (1950) to sleazy 99 Women (1969) to pop culture approved "Orange is the New Black," the possibilities seem endless and compelling. Palestinian director Mai Masri leaves behind the world of documentary filmmaking for her feature debut, 3000 Nights. If the title gives you any indication, it's the length of a prison sentence, and is an equally succinct way to describe the rather matter-of-fact tone the film takes in this examination of 'the wrong (wo)man' scenario. Drab and too easily utilizing the harrowing social and political upheaval of Israel's occupation as a metaphor, the film's lifeless portrayal of one woman's struggle to overcome is relayed with suffocating familiarity.
Recently married Layla (Maisa Abd Elhadi) is arrested for assisting a wounded man on the side of the road in 1980 Occupied West Bank. Unfortunately, he was involved in some terrorist operation so she's sent to prison unjustly as aiding this Palestinian group. Unable to supply the imperious Israeli authorities with information since she has none, she's sentenced to eight years. Soon after her sentence begins, she discovers she's pregnant, a fact her new husband doesn't see as important enough to keep him from fleeing to Canada. Layla is intent on keeping the child, but when the other Palestinian prisoners launch a massive hunger and labor strike, she's caught between participating in the movement and protecting her child.
Lead actress Maisa Abd Elhadi may be strikingly beautiful, but there's not much by way of characterization for Layla. It's clear she's been unjustly accused of her crime, simply guilty of assisting the wrong man at the wrong time in front of a justice system happier to see her punished than believe her innocence. But we learn little else about Layla regarding her feelings or convictions. Usually a certain amount of interplay with fellow inmates adds to the dramatic integrity of these scenarios, yet these are relayed with blunt precision, such as Layla rescuing an Israeli inmate from overdosing, recalling the begrudging but eventual overcoming of cultural differences seen in Audiard's A Prophet (2009) but only superficially explored here. Likewise, the virulent anger of the prisoner Sanaa, played by a striking Nadera Omran, seems used only to further contrivances of conflict.
Intriguingly, Layla is allowed to keep her child with her in prison until he is two years of age. Initially, she's instructed to abort, especially since her husband absconds to Canada and her mother isn't going to take the child (a situation explored similarly in 1950's Caged, as well). Allowing the child to exist alongside his mother in prison seems a questionable tactic, one promising trauma for both mother and child at the end of the inevitable period. When this does eventually transpire, the moment oddly lacks emotional potency.
Much like the rest of the film, it's clear Masri is well-researched in this contemplation, ending with the customary title cards informing us of numbing statistics regarding unnecessary Palestinian prisoners since the 1948 occupation. But political posturing aside, 3000 Nights operates as another grueling chapter of Good Samaritan horror, though one that lacks bite.
Reviewed on September 12th at the 2015 Toronto International Film Festival – Contemporary World Cinema Program. 103 Mins.
★★/☆☆☆☆☆