Reviews
The Department Q Trilogy | Review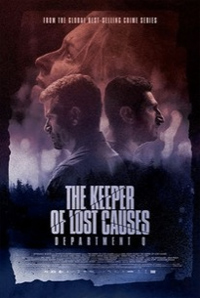 The continued reverence for the pulpy wave of crime thrillers popularized as Nordic Noir continues with the imported The Department Q Trilogy, a series of three films based on novels by Jussi Adler-Olsen. Much like the original Swedish versions of Stieg Larsson's The Girl with the Dragon Tattoo trilogy featuring the same protagonists across a trio of films helmed by alternating directors. Beginning with the 2013 title The Keeper of Lost Causes and ending with 2016's Conspiracy of Faith, the trilogy won't have the same impact for leading stars Nikolaj Lee Kaas and Fares Fares as Dragon did for Noomi Rapace, partially due to the rather disjointed, random, and rambling narrative arcs which make these films (especially viewed together) seem like lengthy episodes of a recurring television series. Basically, two initially at-odds detectives are charged with organizing twenty year old cold-case files for the purposes of tying up loose ends. But when they begin to discover hot leads on once dead-end investigations, the dynamic duo begin to unravel complex conspiracies with sometimes far reaching consequences in society's upper and lower echelons.
The Keeper of Lost Causes (2013) begins as hotheaded homicide Detective Carl Morck (Nikolaj Lee Kaas) declines to wait for backup to arrive at the scene of a crime, a decision which leaves him wounded and his partner crippled. Returning to work, he finds he's been relegated to the thankless Department Q, a graveyard of old, unsolved cases slowly being sorted by Assad (Fares Fares), whose only similarity to Carl is his role as an outsider in their agency. Perturbed at what he views as a glorified desk job, Carl is none too enthused to dive in, while his meager home life is mildly uprooted by his teenage son dropping in to announce he'll be living there until further notice. Intrigued by what seems an open and shut case of suicide from five years prior, Carl begins to notice indiscrepancies in information regarding rising politician Merete Lyngaard (Sonja Richter) who purportedly jumped off a ferry while traveling with her handicapped brother Uffe (Mikkel Boe Fosgaard). Her body was never discovered, and as Carl digs, he discovers she is quite alive and well, kidnapped and held captive in a pressure chamber by a captor with a considerable chip on his shoulder.
Morck and Assad return to solve an even older case in The Absent One (2014), this time with the help of a plucky secretary, Rose (Johanne Louise Schmidt). The murder of a twin brother and sister from twenty years prior has something to do with a young woman named Kimmie (Danica Curcic) who may have tried to report the murder shortly before she went off the grid. The father of the twins, an ex-cop, attempted to appeal to Carl shortly before killing himself, which got the downtrodden detective's attention. Immediately, he finds inconsistencies when he begins to ask questions, starting with the man who was convicted of murdering the twins, whose sentence was severely reduced thanks to the service of a notorious lawyer only hired by the extremely wealthy. Digging a little deeper, he discovers ties to wealthy businessman Ditlev Pram (Pilou Asbaeck), a man who dated Kimmie in high school.
And then, in A Conspiracy of Faith (2016), a cryptic note in a bottle washed ashore leads Carl and Assad to pinpoint a particular religious rural community involving the possible disappearance of a young boy several years earlier. Just as they're working to discover the possible nature and intent of the strange note, two young children were seen abducted in a vehicle, though no parents reported any children missing. As they question locals, they discover a strange, religiously afflicted madman who takes children for ransom, then rarely returns them after collecting the goods. Meanwhile, Carl is led to question his atheism in response to the devious madman's motivations, and examine why he himself is so passionate about bringing justice to those who have been wronged.
Writer/director Nikolaj Arcel, who adapted The Girl with the Dragon Tattoo (but is perhaps most revered for his 2012 directorial effort, A Royal Affair), wrote the screenplay for all three of these features, all of which display, more or less, a narrative efficiency when it comes to solving each rather formulaic mystery. We're spoon-fed background information in-between takes of the two intrepid detectives, the films already answering any of our nagging questions about the unsolved nature of the mysteries as they clip along. This seems a way to overcome the complicated logistics involved in actually solving investigations, much less cold case files, where information has faded, been tampered with or disappeared. Instead, each of these seems more appropriate for early evening television, despite a handful of glaringly nasty bits meant to provoke those unfamiliar with society's seedy underbelly.
Across three features, we learn very little of Kaas' strong-arming hothead and even less of his Syrian-born partner Assad, whose ethnicity comes up on more than one occasion of differentiation. Surely, both Kaas and Fares are likeable in the tradition of usual stoic protectors of the law, character flaws for each kept in check thanks to their opposing temperaments. But it's hardly enough to distract from each of these smugly predictable narratives.
Director Mikkel Noorgard helms the first two entries, both of which broke box office records in Denmark. Best known for his gross out male bonding comedy Klown (2010), Norgaard seems adept at genre but not nearly as inspired as he was with gags in his earlier film. But if both The Keeper of Lost Causes and The Absent One feel pleasantly entertaining even despite their dependence on routine, the same distinction cannot be said for the latest chapter, A Conspiracy of Faith. Hans Petter Moland (Aberdeen; In Order of Disappearance) takes over director credit for a thriller which attempts existential rumination in place of logic. The opening mystery of the message of the bottle is merely a red herring they're wasting time on until they receive a report on some abducted kiddies—except their research into weird rural religious rituals primes them to look a little harder before serious discussion ensues about whether a higher power concocted an elaborate plan for them find that bottle so they could be pointed in the right direction.
The unusually unflappable Carl Morck, alas, is led to redemptive tears in a closing church ceremony, indicating an emotion as galvanizing and steadfast as hope must merely be a euphemism for faith…in something or other.
The Keeper of Lost Causes – ★★½/☆☆☆☆☆
The Absent One – ★★½/☆☆☆☆☆
Conspiracy of Faith – ★★/☆☆☆☆☆