This Time, It's War: Ayer's Latest Depiction of Men Under Fire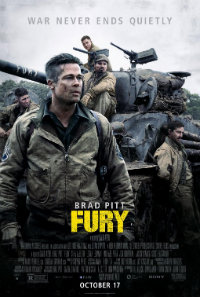 At last leaving behind the pulpy, sometimes overly chewy cop action/dramas he's been churning out, David Ayer returns with his most sobering film yet, Fury, reconstituting a title previously used famously by both Fritz Lang and Brian De Palma (both for very different purposes). His most homosocial film yet, Ayer delivers a sometimes grueling slog through the horrors of war, hardly shirking away from the excessive violence of the situation, even if the sexual depravities written off as necessary casualties transpire conveniently out of sight. Sometimes pretentious and sometimes straining a bit too hard for an extra degree of pathos, it's nonetheless an arresting film that's often unsettling and unpredictable.
"Fury" is the nickname of the M4 Sherman tank commanded by Don "Wardaddy" Collier (Brad Pitt), emblazoned in white paint on the barrel. He's just lost one of his crewmembers, though Fury is still one of the luckier tanks since the Germans have outmanned and outgunned American forces on the ground, this despite Allied Forces being on the verge of winning the war. As they tour through Germany to capture towns that Hitler has ordered all citizens to mobilize within (or face execution), he receives a last minute replacement, Norman Ellison (Logan Lerman), a rookie that's only been trained as a typist, unceremoniously plopped into combat. Ellison faces some razing from Wardaddy's other grizzled crew members, including Trini "Gordo" Garcia (Michael Pena), Boyd "Bible" Swan (Shia LaBeouf), and Grady "Coon-Ass" Garcia (Joe Bernthal).
Of course, this isn't the first time Brad Pitt's starred as a Nazi killer, though the overblown black comedy of 2009's Inglourious Basterds is nowhere to be seen here. We join the crew midstream in April of 1945, the downward slope of WWII, though the German tanks have severely out shown those of the Americans.' The newest part of their crew, played by the fresh faced Logan Lerman, is also the weakest entry, though he's supposed to serve as the audience's entrance into this hellish pit. Wiping the shot off face of his predecessor from his seat inside the tank, it seems we're in to witness a grueling journey. This overblown hazing iss a similar dynamic Ayer utilized in his screenplay for Training Day. And there's certainly a barrage of violence and hatred that splashes excessively across the screen, though no worse than stuff Ayer already ushered us through in his urban landscapes of End of Watch (2012) or Sabotage (2013).
Brad Pitt is the resolute star of Fury, the human extension of the tank barreling and blasting enemy territory into resigned liberation. His is the best performance in the film, wearied, torn, sneaking off for private moments whenever he has the chance. The first town we see liberated finds us in an extended sequence where Pitt and Lerman have a quiet dalliance with the only women in the film, Anamaria Marinca and Alicia von Rittberg. It's a scene that almost works satisfactorily, meant to show the likeness that these two men share in that they haven't been lost to the uncivilized barbarism that's going on just outside (likewise, Lerman's character is seen reading Hemingway's For Whom the Bell Tolls, a detail too pointed in this context). But it tries to force more drama into the material than is necessary between Rittberg and Lerman, a young actor trying valiantly to step outside of his adolescent shellshock that accompanies him in nearly every film. As Pitt's crew have their way with a woman outside in the tank, an even more objectionable incident transpires in the apartment, though one cloaked in a message that time is short and life is precious, so pressured pleasure is to be expected (which explains why Ayer insists on forcing a more romantic connection between Rittberg and Lerman as it reads as a compensation, which may also be due to the lukewarm fervor on display).
As for Pitt's three crew members, Ayer regular Michael Pena, Bernthal (still highly underrated) and LaBeouf are a believably motley band of brothers (even despite LaBeouf's overboard bids for attention hidden in the process of 'method' acting, here unnecessarily removing a tooth prior to filming, just for extra texture). If the third act heroics ultimately seem counterproductive and unnecessary, Fury is a noble bid at depicting the horrors of war. Opening the same week in the US as Volker Schlondorff's Diplomacy (sadly only playing in New York), which depicts a different behind-the-scenes glimpse at an attempt to save a city during liberation, there are a clearly a multitude of perspectives still to be examined from an incredibly dark historical chapter.
★★★/☆☆☆☆☆