Reviews
The Sound and the Fury | Review
But a Walking Shadow: Franco's Faulkner Redux Merely Serviceable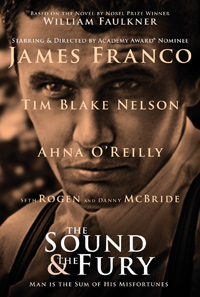 Continuing to thumb his nose at naysayers, James Franco plunges onward into his own particular directorial abyss with his second William Faulkner adaptation, The Sound and the Fury. Much like its predecessor, 2013's As I Lay Dying, the actor-filmmaker manages a troubled synopsis of Faulkner's enigmatic text but still remains unable to strike a visual resonance necessitating his undertaking.
Ambitious and a bit pretentious, Franco's cinematic hubris may know no bounds, though it's still refreshing to see him shirk the limiting lasso of mainstream sensibility in his personal crusade to create something meaningful. That said, there are several moments reaching a certain poetic pitch, collapsing a quartet of perspectives into a simplified triptych. Complex characterizations and the narrative resonance of Faulkner aren't quite intact with this otherwise faithful transplant, but its first and third acts maintain a watchable melodramatic energy.
Faulkner's 1929 novel utilizes his particular brand of stream-of-consciousness that had categorized it as unfilmable. It relates the dog days of the once venerable Compson clan of Mississippi, now languishing away in a last, doomed generation of four siblings born to parents (Tim Blake Nelson, Janet Jones) unable to rightfully guide their children. Divided into three chapters, each focusing on one of their sons, the narrative begins with Benjy (Franco), the mentally challenged black sheep of the family, who reveres his sister Caddy (eventually portrayed by Ahna O'Reilly) and is more or less cared for by family servant Dilsey (Loretta Devine). Then, there's Quentin Compson (Jacob Loeb), the intellectual but emotionally sensitive son who departs for Harvard but eventually commits suicide. Lastly, there is the resentful, malignant Jason Compson (Scott Haze), who loathes Benjy and blames his wayward sister for lost opportunities since her illegitimate child Quentin (Jamie King) had to be raised on the family estate.
Casting continues to be an issue in Franco's universe, against his better judgment injecting incredibly distracting cameos from the likes of Danny McBride and Seth Rogen. Worse, Franco casts himself as the mentally handicapped Benjy, though he does maintain a full throttle characterization, recalling a famed monologue from Ben Stiller's Tropic Thunder (2008). But through his yellowed fake teeth (looking similar to Tim Blake Nelson's rotten enamel in As I Lay Dying) protruding from his spittle oozing maw, Franco never dissolves into the landscape. Instead, one pictures the actor laughing at the reels of his performance with his pals (which may be an unfair assumption, but worth mentioning because the audience would be less apt to question an unknown actor's sincerity).
Meanwhile, Scott Haze, of Franco's Child of God (2013) plays the malevolent Jason Compson as a vengeful meanie rather than the glowering inferno of repressed rage he should be. Others, like Ahna O'Reilly as the infrequently seen Compson sister, get hobbled by the shortsightedness of this adaptation, while Joey King, Franco's co-star from Oz the Great and Powerful (2013), also seems unable to channel the correct tenor of tortured animosity. Tim Blake Nelson reunites with Franco for a third time, and along with the vibrant Loretta Devine, seem like bright shiny pearls of nuance in a cast that sorely needs more of it.
DoP Bruce Thierry Cheung gets his first solo feature credit here, and seems to garner most of the film's emotional affectations in handheld close-ups (which are particularly distracting when the subject is Franco gnashing his chompers). Wisps of Benjy's inner-child consciousness whisper repeated motifs, but this disembodied soul eventually feels trifling, and is an energy never reflected in the depictions of the Compson clan.
★★½/☆☆☆☆☆