The Tender Bar [Video Review]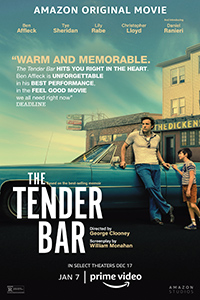 Producers: George Clooney, Grant Heslov, Ted Hope.
Executive producers: Barbara A. Hall, J.R. Moehringer.
Director: George Clooney.
Screenplay: William Monahan, based on the memoir by J.R. Moehringer.
Camera: Martin Ruhe.
Editor: Tanya M. Swerling.
Music: Dara Taylor.
Cast: Ben Affleck, Tye Sheridan, Lily Rabe, Christopher Lloyd, Max Martini, Rhenzy Feliz, Briana Middleton, Max Casella, Sondra James, Michael Braun, Daniel Ranieri.