What Do We See When We Look at the Sky? | Review
Eye See You: Koberidze Spins a Modern Fairy Tale of Distracted Perceptions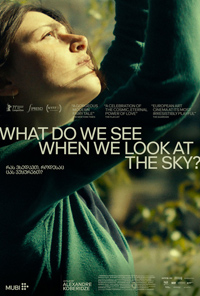 Georgian director Alexandre Koberidze ascends to a sublime arthouse stature with his curious sophomore feature What Do We See When We Look at the Sky?, a sort-of randomly moderated fairy tale romance, travelogue mussed music video. Arriving shortly after Dea Kulumbegashvili's exceptional Beginning (2020), Koberidze's accomplishment heightens the possibility for a budding New Georgian Wave. A provocative mix of tones, inspirations, and playful textures, it's filled with odd waves of captivation, though its fluctuations may repel whatever initial ambience convinces one of its charm. If you commit to its running time, Koberidze concocts a genre unto itself with this cinema as hypnosis, switching gears every time you feel you've figured out where the narrative is headed.
Lisa (Oliko Barbakadze) has a chance encounter with Giorgi (Giorgi Ambroladze) on the streets of Kutaisi, a city not far from Tbilisi. Through their tangled legs, a book hits the asphalt, and an ensuing discombobulation of these appendages suggests a moment has transpired. Lisa goes to work as a pharmacy clerk and he's a football player, and their distracted day allows another meet cute at night. But an all-knowing narrator tells us an Evil Eye has cursed the couple, who have fallen in love at first sight. They agree to meet at a café the next day, but both wake up the next day physically transformed (now played by Ani Karseladze and Giorgi Bochorishvili), having forgotten the skills which provide their income. Although the rendezvous at the café is ruined, it seems fate has their romance in mind…
Koberidze employs an impressive array of textures and potential cinematic influences, but the musical cues which often override the on-screen dialogue suggests a fascination with silent cinema. The narrator, the representation of Koberidze himself, is the omnipotent purveyor and designer of a tale as much about Kutaisi as it is the unfortunate lovers who set the wheels in motion. For those who had a chance to see Koberidze's 2017 debut, Let the Summer Never Come Again, which played in Berlin Critics' Week, the sprawling saga unveiled there highlights an effort to edit a plethora of ideas into a cohesive whole this time around, while retaining a sense of enigma and a flair for more exotic experiments with non-linear storytelling.
The promise of its contemporary fairy tale vibe eventually dissipates which then lulls the audience into a bizarre rhythm into a territory reflecting various interpretations. Lisa and Giorgi's meet cute has all the warmth of a Haneke interaction, a close-up of intersecting legs which segues into juxtapositions of the professional attributes which seemingly define them as beings. Four magical objects attempt to speak with Lisa, anthropomorphic homage to something like Baba Yaga, where the heroine is warned of some Evil Eye cursing the couple. Koberidze never confirms who the Evil Eye is, but one such reading is (you!) the sentiment of the audience, our automatic cynicism and resentment for those claiming to experience 'love at first sight.' They're not only cursed with transforming into the likeness of someone else (the trauma of such an occurrence isn't really addressed) but also losing the knowledge of their professional expertise.
As with most fairy tales, fate intervenes and Lisa and Giorgi meet in their new forms, but Koberidze seems to lose interest in this thread and instead the film, and its narrator, turn their interest towards the history of Kutaisi, and the traditional obsession with football furor about to take over. The playfulness of the first half of the film employs novel audience interaction a la William Castle, and then settles into another exercise which feels like a meta docudrama concerning filmmakers Nino and Irakli and their vague film project about photographing couples. Faraz Fesharaki provides a rich visual palette of Kutaisi, but it's Koberidze's own editing (plus a formidable score from his brother, Giorgi Koberidze) which makes What Do We See When We Look at the Sky? a sensory experience from an idiosyncratic auteur in the making.
Reviewed on March 3rd at the 2021 Berlin International Film Festival – Main Competition. 150 Mins.
★★★½/☆☆☆☆☆