Reviews
The Two Faces of January | Review
Winter of Our Discontent: Amini's Problem with Narrative Pabulum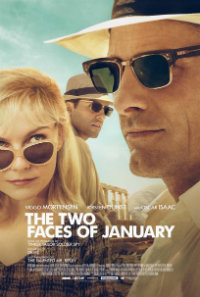 Few crime writers can boast such a weighty lineage of cinematic adaptation as that of Patricia Highsmith, probably falling somewhere between Agatha Christie and Ruth Rendell, if one were to measure. Wim Wenders, Rene Clement, Anthony Minghella and Liliana Cavani have all reincarnated her most celebrated character, Tom Ripley, to the big screen, while Hitchcock, Michel Deville, Claude Chabrol (and later this year, Todd Haynes) have adapted some of her signature titles. And so, it is with great regard that screenwriter Hossein Amini arrives with his directorial debut, The Two Faces of January, a promise of scrappy ne'er-do-wells conning each other for money or guilty pleasures of the carnal sort, performed by a trio of renowned actors that rival Minghella's starry line-up of The Talented Mr. Ripley. And yet, there's something unnervingly stale about the whole endeavor, like a handsome grocery store cake that's sat on the icebox display too long, the preservatives from the frosting seeping toxically into the filling as chemical properties disintegrate.
In 1962 Athens, Rydal (Oscar Isaac), an American ex-pat exists as a tour guide, romancing the young privileged women he also fleeces of petty cash. Spying an American couple gawking around the Parthenon, Rydal is struck by how much the man (Viggo Mortensen) reminds him of his estranged father, who passed away a month ago in the US, and whose funeral he did not attend. Of course, this striking man's much younger wife (Kirsten Dunst) is hard to look away from as well. Noticing his stares, the couple, Chester and Colette MacFarland, entertains a meeting with the young man by hiring him as a guide. But a lovely day turns into a dark evening when Rydal accidentally becomes involved with a crime committed by Chester when some past swindling activities coming back to haunt him. The promise of easy cash and more time to spend with Colette lures Rydal into helping the couple attain new passport identities and flee Greece.
Working staunchly against the film's success is the staggering cinematic reputation built up around Highsmith. We go in expecting several things to transpire, like a complicated relationship, perhaps laced with undertones of homosexuality, between Mortensen and Isaac. Amini doesn't tease any possibilities out of that, their female sexual conquest forever at the apex of their duel, only misplaced by who will take the fall for her absence. Instead, we get a rather truncated examination of a textbook father/son relationship, paired with the all too obviously intertextual symbol of the two headed snake, at first presented in a bracelet purchased for Dunst. "It symbols immortality," we're told. Several visual sequences furthering the motif of their connected duality provide nice flourishes, such as the pair descending from opposite stairwells, etc., yet would have been much niftier if it wasn't all used to such obvious effect.
While there's nothing innately wrong with Mortensen, Isaac, or Dunst's performance, they're all so emotionally padlocked that we never quite get a sense of how they tick or what they really want. We get that Isaac's Rydal has daddy issues (and maybe even Colette does, too), and that he's a little crook in a big pond. Mortensen's Chester is the bigger crook and has the ability to swim around better, but none of them seem (or were written as) very intelligent when it comes to trying to actually get away with a crime. Instead, they all get a bit overwhelmed by the plush, summery landscape of Athens, whether being engulfed by the Parthenon or consumed by the mythologically prophetic island of Crete.
A whole slew of visual motifs could have been possible, filmed in a land rich with cultural warranty, yet we're stuck with this two headed snake and these slightly bitchy people trying to navigate a three's company scenario. While Amini's something of a hot commodity due to his success with a brilliant screenplay for Drive, his name is also attached to pretty miserly paycheck fare like 47 Ronin and Snow White and the Huntsman. His The Two Faces of January looks and sounds like an ambitious endeavor, yet it might be the most stodgy reworking of Highsmith since Chabrol's 1987 go at The Cry of the Owl. One faced or two faced, Amini's film is indefatigably pokerfaced.
Reviewed on June 17 at the 2014 Los Angeles Film Festival – Galas.
★★/☆☆☆☆☆