Born to Kill: Byung-gil Gets Blood Simple in Crackling Clash of Vengeance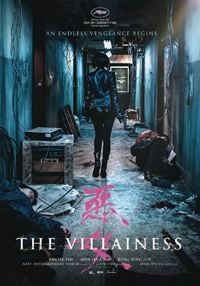 Your eyes might feel bruised but your pulse will remain elevated throughout Jung Byung-gil's erratic slice of brutal revenge, The Villainess. The South Korean director unleashes his second narrative feature (which premiered in the Midnight program of the 2017 Cannes Film Festival) as a fractured bildungsroman of one troubled little girl trained to be an assassin who spends her adulthood attempting to exact revenge on the man who killed her father.
Narratively speaking, Byung-gil's film zig-zags freely between periods and characters which seems to be an attempt to elevate the rather flimsy concept we've seen time and again. Recalling a slew of classic femme fatales with equal talents for inducing fear, pain and death, including La Femme Nikita (1990), the O-Ren Ishii backstory from Kill Bill, and even Joe Wright's Hanna (2011), this supremely choreographed spectacle certainly isn't lacking for style as it does in derivative substance. A formidable Kim Ok-bin slays the competition in a performance which should be catnip for fans of Kaji Meiko's notorious Female Prisoner: Scorpion icon.
Arrested after a bloody killing spree, the mysterious Sook-hee (Kim Ok-bin), finds herself unwillingly repatriated by a secret, insidious government agency. In exchange for ten years of her life, they'll release her, although Chief Kwon (Kim Seo-hyung) doesn't make it sound like she has many options, especially seeing as Sook-hee is pregnant. Slowly, we begin to learn of her ill-fated past as she trains to become an undercover agent, choosing to moonlight as an actress in the real world. Having seen her father assassinated in front her eyes as a small child, Sook-hee was rescued and trained to be an assassin herself, eventually marrying mentor Joong-sang (Shin Ha-kyun). When her husband is killed, Sook-hee hunts down the men behind her father's murder. Now, released into society as an undercover agent, Joong-sang re-appears, just as she begins a liaison with next door neighbor Hyun-soo (Bang Sung-jun), a man who has considerable secrets of his own.
The Villainess opens with the first-person perspective of Sook-hee mowing down an endless gang of men in brutal hand-to-hand combat. Eventually, her gender is revealed a la the music video for Smack My Bitch Up. But if Jung's pickled punk sangfroid is the adrenaline thread which animates the film, its doomed central romance between Sook-hee and Hyun-soo ends up being more along the lines of Prizzi's Honor (1985).
There's a sort of cheesy soap-operatic essence to the developing romance between them, curdled by the fact we know he's fallen in love with her as a voyeur, watching her every intimate move, which has given him a certain perverse advantage in his courtship. Kim Ok-bin, who was the memorable lead in Chan-wook's Thirst (2009) should hopefully count this performance amongst her signatures, managing to transcend the superficiality of this scenario with a potent portrait of a woman spurned.
Byung-gil mashes the film's warring dramatic rivalries into one crazy intersection on Sook-hee's second wedding day. Borrowing heavily from La Femme Nikita (and its 1993 American remake from John Badham, Point of No Return), Sook-hee is tasked with assassinating a target through a bathroom vent to shoot a man in a high-rise across the street right before the nuptials are exchanged. The assignment is foiled when she learns the mission is to end ex-husband Joon-sang (who also starred with Ok-bin in Thirst, as well as Chan-wook's seminal Sympathy for Mr. Vengeance).
Lots of unnecessary hand-wringing over the fate of Sook-hee's father and her resulting extreme dysfunction melds pulpy surface gloss to several favored South Korean genre themes (including plastic surgery as an impetus for reinvention), but these characterizations and their emotional silver linings tend to feel more akin to lip-syncing than any real song and dance.
Instead, the real power of The Villainess unfolds in its breathless action sequences while some of its juiciest moments are usually shared between a mesmerizing Kim Ok-bin and Kim Seo-hyung as the inscrutable, immovable Chief Kwon, a sleek, chic, and icy boss who's steely resolve is matched only by an air of dangerous menace. Jung Byung-gil, who won praise for his 2012 debut Confession of a Murder, is one to watch, and even if The Villainess tends to convolute the simplicity of its narrative design, it is sublimely entertaining.
★★★½/☆☆☆☆☆